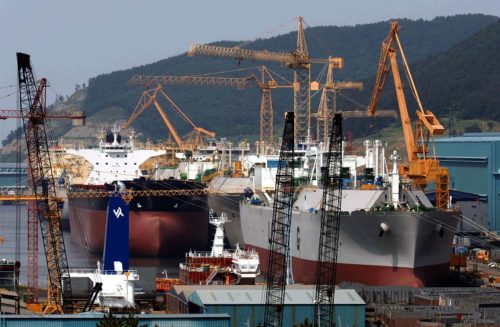 South Korean shipyards maintained lead in the global order book for the fifth consecutive month in September with order backlog reaching over 20 million compensated gross tonnage (CGT).
According to British shipbuilding and marine industry tracker Clarkson Research Services on Wednesday, Korean shipbuilders bagged combined 28 orders in 1.63 million CGT in September, snatching 65 percent of the total 75 shipbuilding orders in 2.52 million CGT placed in the world last month.
China won the second-largest amount of 350,000 CGT or 17 orders in September.
Based on the cumulative new order volume in the January-September period, Korea topped with the largest share of 45 percent, or 212 vessels in 9.5 million CGT. China came second with 6.51 million CGT and Japan third with 2.43 million CGT.
Global ship orders as of September this year hit 21.14 million CGT, up sharply from 18.73 million CGT a year ago and 9.92 million CGT in the same period in 2016.
As of end of September, global ship order backlog amounted to 77.8 million CGT, up 810,000 CGT from a month ago. By country, China had the largest backlog of 27.9 million CGT, followed by Korea with 20.37 million CGT and Japan with 13.51 million CGT. The last time Korea had the backlog of over 20 million CGT was January 2017.
Source: Pulse