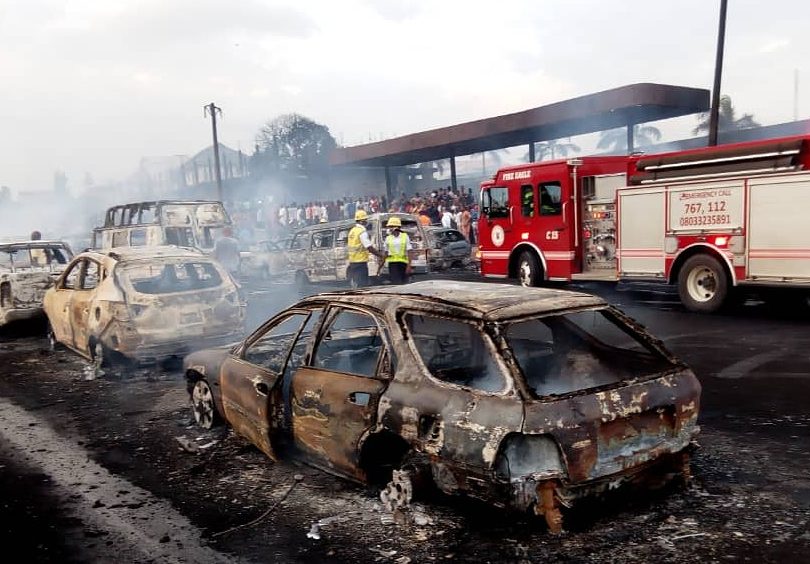 The police in Lagos have arrested the owner of the truck, which caused a fatal accident on the Otedola Bridge along the Lagos-Ibadan expressway last month.
Police spokesperson, Chike Oti, in a statement Friday said the truck owner was arrested at his home in Kano by homicide detectives from the State Criminal Investigation Department, Yaba, Lagos.
The police identified the owner as Hassan Maiwake. The driver of the truck, however, remains at large.
A Mack tanker loaded with 33,000 litres of fuel went up in flames after it fell and spilled its contents on the bridge on June 28.
Nine people were confirmed dead and several others injured in the inferno, which razed at least 54 vehicles.
Multiple witnesses of the incident, however, said the casualty figures were higher.
"Hassan Maiwake of No.16 Hotoro Limawa, Kano state, was arrested yesterday in Kano and he is now helping the police in its effort to locate the driver of the ill-fated truck," the police said in the statement.
"The CP assures that the Command will do all it can to help families who lost their beloved ones in the accident, find a closure by ensuring that anyone found culpable is brought to book.
"DNA test to ascertain the true identities of the charred remains of the victims is ongoing. Further development will be communicated to Lagosians." 
In its preliminary investigation, the Lagos State government attributed the cause of the accident partly to the tanker being loaded with 30 tonnes, twice its capacity.