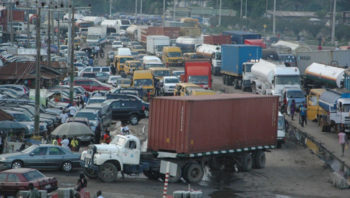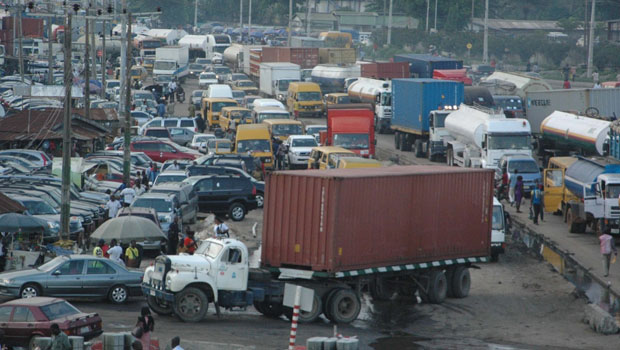 Several businesses are closing shop due to the persistent gridlock in Nigeria's port city of Apapa, according to the Nigeria Police Force. 
"The traffic situation is my number one problem. The traffic situation in Apapa is something else. And if you watch, a lot of businesses are moving out of Apapa. So, I want them to come back. I am here to do that. We know we are to face the security problem which is another one again, but let the businesses return first," says Commissioner of Police, Western Ports Command, Celestine Okoye. 
Speaking when he visited the National Association of Government Approved Freight Forwarders (NAGAFF) last week, Okoye said he had relocated his office from Marina, Lagos to Apapa to mobilise his men to battle the recurring gridlock. 
The Marine Police Command CP commended the freight forwarders' body for maintaining a cordial relationship with the Force.
He said, "NAGAFF is very important to the police, a very strong stakeholder at the port. One of the major reasons I left Marina is because Apapa is the operational base. Being here affords me the ability to control situations. As a leader, I should be where it is happening."
The association's president, Increase Uche told the police boss that his men have been found culpable in the abuse of their powers. 
"These include but not limited to the incessant abuse of the general duty powers of the police. Aside from this, we have the issues of unchecked harassment and violation of the right of our members by various agencies at the ports with regard to access into the port; the non-enforcement of regulations, the resistance to change by port users, the deplorable state of the ports access roads and the wide spread of corruption in the system," he said. 
NAGAFF founder, Boniface Aniebonam, who also spoke during Okoye's visit said, "We hope your visit would address the numerous challenges in the maritime industry through the Executive Order on the Ease of Doing Business reform of the sector. We see this as a welcome development and have always thrown our weight in support of government efforts at providing the enabling environment for businesses to thrive.
"We are convinced that your visit here today would afford our members the opportunity to rub minds and find out what the intention of your office is in the new Executive Order which is geared towards removing some of the bottlenecks impeding free flow of trade and associated services in the maritime sector," he said. 
Copyright Ships & Ports Ltd. Permission to use quotations from this article is granted subject to appropriate credit given to www.shipsandports.com.ng as the source.