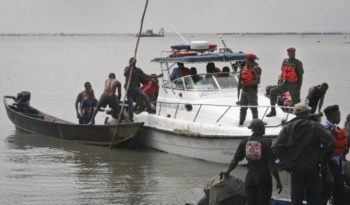 The Marine Police in Lagos on Thursday revealed that between 10 and 20 corpses are recovered from Lagos water bodies on a daily basis.
A State Marine Police Officer, Ufuomanefe Akusu, revealed this in Ikoyi, Lagos during a stakeholders' forum by the Lagos State Waterways Authority (LASWA), themed 'The Role of Water Transportation in the Development of an Integrated Transportation System in Lagos.'
He said the state's waterways had been experiencing turbulent period in recent time and that pragmatic efforts must be put in place to salvage the situation.
Akusu revealed that two days ago, a boat with eight passengers capsised on Lagos waterways, but noted that the Marine police were able to rescue the passengers due to prompt intervention.
He added that on Wednesday, another boat capsied on the Lagos Lagoon and that the prompt intervention of the Marine Police also saved the day as the passengers were rescued.
Akusu said the Marine Police boats were scattered everywhere on the Lagos Lagoon to attend to emergency and protect the waterways from pirate, adding that the police had fast moving boats to attend to emergency on water.
He appealed to Lagosians to always give prompt information to the Marine Police for prompt action and also urged boat owners to ensure that they did not overload their boats.
He was however happy that the equipping of the Lagos State Emergency Management Agency (LASEMA) by Governor Akinwunmi Ambode to tackle emergencies on Lagos waterways through the acquisition of rescue boats and skid jets, had not only helped LASEMA to be able to response and carry out emergency operations on water but also at record time.
Akusu also believed that would greatly help to complement the efforts of marine police in rescue operation.
The Managing Director of LASWA, Oluwadamilola Emmanuel, reacting to the comment of corpses being recovered from Lagos waters, said it was the reason his agency had been clamouring for the use of standard boats by boat operators.
Emmanuel disclosed that in days to come, the agency would begin to enforce the use of standard boats to avert boat mishaps