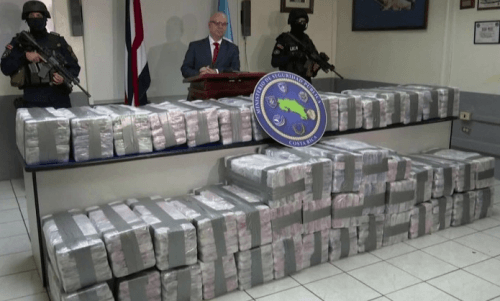 The Drug Control Police in Costa Rica has seized a shipment of 954kg of cocaine hidden in a container destined for Belgium, the government said Monday.
The drugs had been concealed in a load of banana pulp that was set to leave the Moín Terminal at the Caribbean port of Limón for Belgium, Public Security Minister Michael Soto said in a press conference.
The minister explained that agents of the Drug Control Police (PCD) submitted the "suspicious" container for inspection on Sunday.
Inside they found 29 briefcases containing a total of 954 one-kilogram packs of cocaine, Soto said.
"So far this year, the PCD has detected nine containers contaminated with drugs at the Limón docks, resulting in the confiscation of 5.51 metric tons of cocaine," the minister said.
Soto added that 37.2 tons of drugs have been seized throughout Costa Rica, mostly cocaine and marijuana, in 2019.