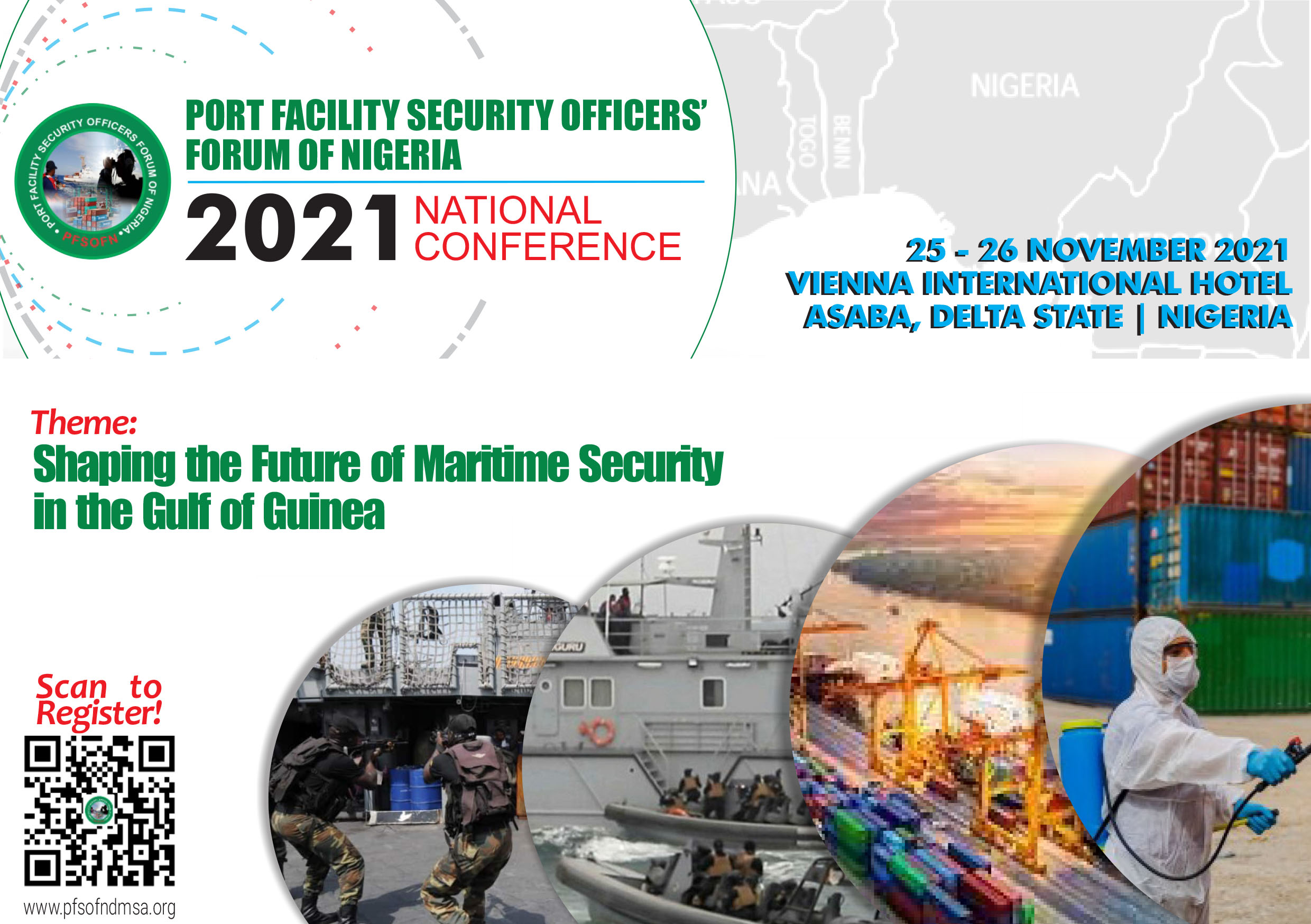 The Port Facility Security Officers Forum of Nigeria (PFSOFN) will hold its 2021 National Conference on Thursday 25 and Friday 26 November 2021 in Asaba, the capital of Delta State.
PFSOFN is the body of government and private sector top security officials responsible for the protection of lives and properties at the seaports in Nigeria.
The theme of the 2021 PFSOFN IS "Shaping the future of maritime security in the Gulf of Guinea".
PFSOFN National Vice Chairman, Mrs Gloria Ayika, in a statement on Thursday, said the conference will feature panel discussion on the effect of COVID-19 pandemic on port operation, as well as paper presentations on various topics including "Intelligence gathering and sharing in the maritime sector: An evaluation of security operations in the Gulf of Guinea" and "Piracy in the Gulf of Guinea: Issues, challenges and mitigation strategies".
Ayika said the conference will provide an avenue for top port security officials to brainstorm of finding ways of improving on security situation at the seaports, terminals and jetties across the country.
She said the members of the PFSO Forum have maintained a high level of professionalism since the group was formed after Nigeria ratified and complied with the provisions of the International Ships & Ports Facility Security Code (ISPS Code) in 2004.
Participants at the conference will be drawn from the police, navy, Nigerian Ports Authority (NPA) and the Nigerian Maritime Administration and Safety Agency (NIMASA), among others.
The ISPS Code, which the Port Facility Security Officers (PFSO) are responsible for implementing at the port, is an amendment to the Safety of Life at Sea (SOLAS) Convention on the minimum security arrangements for ships, ports and government agencies.
The ISPS Code prescribes responsibilities to governments, shipping companies, shipboard personnel, and port facility personnel to detect security threats and take preventative measures against security incidents affecting ships or port facilities used in international trade.
It borders on incidents affecting ships or port facilities used in international trade; national and international level for ensuring maritime security to provide a methodology for security assessments so as to have in place plans and procedures to react to changing security levels.
NIMASA is the Designated Authority (DA) for ISPS Code implementation in Nigeria.