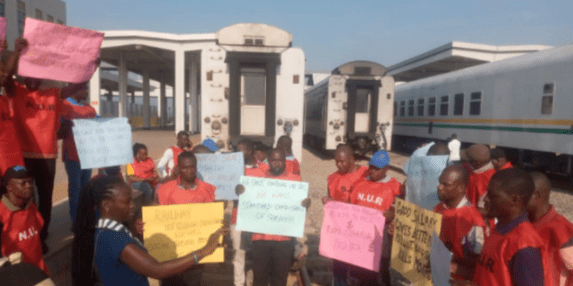 Workers of the Nigerian Railway Corporation (NRC) on Thursday protested their poor monthly remuneration of about N26,000 (equivalent of US$63 per month).
The workers demanded increased salary and better welfare package during a protest at the Idu Station in Abuja.
The workers were seen gathered at the train station armed with placards with different inscriptions, which include "Good salary gives better results, bad salary kills morale", Abuja Train Attack, a Terrorist's Attack: say it as it is MD NRC".
One of the aggrieved drivers said the protest was necessary especially as Dangote Group reportedly pays truck drivers N300,000 per month while the Federal Government pays locomotive drivers a paltry N26,000. He said NRC had "beautiful modern infrastructure but zero welfare for workers".
The President-General, Nigerian Union of Railway Workers (NURW), Innocent Ajiji, said railway staff were the most poorly paid among government agencies under the Federal Ministry of Transportation.
He said, "It will interest you to know that our minimum wage is N30,000, so when you deduct contributory housing scheme, pension, union dues and tax, the salary drops down to N26,000. And that's the take-home of the railway workers, no allowance, nothing. That's why we have decided to embark on this protest.
"It will interest you to know that our passengers that are riding on our train are insured, every good that we carry on our train is insured, but funnily enough, those operating the train are not insured.
"You could remember that four weeks back, there was a bomb blast on the train tracks. If something had happened to those drivers, I am assuring you that the only thing that government would have paid them is expenses allowance which is less than N1million. So we are demanding that our workers be insured so that if anything happens to them, the company will pay the next of kin a reasonable amount of money. We are also demanding that our standard of working condition should be reviewed.
Ajiji said the last time the welfare of railway workers was reviewed was in 1978 but it was not implemented until 1983.
The NRC had earlier ordered the suspension of train services between Abuja and Kaduna, Lagos and Ibadan, and Warri due to a strike.
The Managing Director of NRC, Fidet Okhiria, in an internal memo on Tuesday alerted all district managers and key personnel about the necessity to preserve railway assets as a result of the warning strike which will hold from November 18 to 20.
Copyright Ships & Ports Ltd. Permission to use quotations from this article is granted subject to appropriate credit given to www.shipsandports.com.ng as the source.