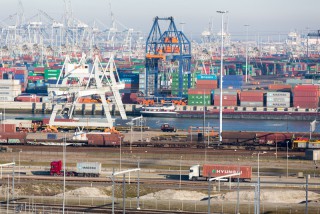 Throughput at the Port of Rotterdam remained flat in 2019 amid "significant underlying shifts" in the various commodity sectors served by the Europe's busiest port.
The Port of Rotterdam Authority reported freight throughput of 469.4 million tonnes in 2019, only fractionally higher than the 469 million tonnes reported in 2018.
While sectors such as crude oil, container, LNG and biomass throughputs increased, coal and mineral oil product throughputs decreased.
Container volumes hit 14.8 million TEUs for a 2.1% increase compared to 2018.
Throughput of liquid bulk in reached 211.2 million tonnes in 2019, almost the same as the 211.8 million tonnes in 2018. 
Within this segment, crude oil throughput exceeded 100 million tonnes for the fifth consecutive year and increased by 3.9%. Meanwhile, the throughput of mineral oil products fell as a result of lower imports and exports of fuel oil. 
"This downward trend over the past few years intensified in 2019 as a result of tightened global emission regulations for shipping that came into effect on 1 January 2020," the Port of Rotterdam said. 
An increase in LGN throughput was mainly due to the import of a greater proportion of the gas produced around the Atlantic ocean into Europe, instead of being exported to Asia. 
The increase in other liquid bulk is accounted for by the import and export of biofuels, particularly biodiesel.
In the dry bulk sector throughput decreased by 4% to 74.5 million tonnes, compared to 2018's 77.6 million tonnes.
The port reported a considerable 14.8% fall in coal throughput as the share of coal in Dutch and German power generation has decreased significantly as both countries are generating more power from solar, wind and gas. 
Throughput of coking coal also came under pressure as a consequence of declining steel production in Germany. 
Annual iron ore and scrap throughput remained almost the same as in 2018, which was a welcome result consideration the reduction in steel production in Germany. 
Biomass throughput, meanwhile, increased by 62.8%, mainly due to the import of wood pellets for co-firing in coal-fired power plants.
In terms of containers, last year was off to a good start in the first half, however, growth in container transhipment was almost negligible in the second half of the year amid slowing economic growth, the Port of Rotterdam Authority said. 
Container throughput measured in tonnes grew by 2.5%, while in terms of TEUs, the increase was 2.1%, reaching 14.8 million TEUs in annual throughput. 
"Economic growth in the EU declined somewhat, particularly as a consequence of reduced industrial production in Germany," the Port of Rotterdam Authority said. "Moreover, as a consequence of declining production and decreased growth in world trade, shipments from Asia were cancelled in November and December. The shortsea segment also experienced the effects of lower economic growth as well as competition with other ports."
Finally, ro-ro transhipment increased a slight 0.8% in 2019 despite the uncertainties surrounding Brexit. 
There were, however, significant fluctuations throughout the year, with throughput peaks as a result of stock build-up in the run-up to the proposed Brexit dates of 31 March and 31 October, the port said. 
Annual throughput of other breakbulk increased by 2.9% as a result of an increase in extra cargo packages. Nevertheless, a decline in throughput was observable in the fourth quarter as a consequence of flagging German exports.
The Port of Rotterdam Authority recorded a annual turnover of €706.6 million in 2019, compared €707.2 million in 2018. In terms of income, port dues showed a slight increase and lease returns fell slightly, the port said.  
The net result excluding taxes amounted to €241 million compared to 2018's €254.1 million.
"The Port of Rotterdam has matched the transhipment volume recorded in 2018. Of course, we are working hard to further increase our leading position and are investing heavily to achieve this," said Allard Castelein, CEO of the Port of Rotterdam Authority. "However, the success of a modern port cannot be measured by throughput tonnage alone. Our customers no longer just want increased throughput capacity, but demand a better, faster and, above all, smarter port. Equally crucial for the future is that industry succeeds in accelerating the energy transition so that the Port of Rotterdam can make a real impact towards achieving the Dutch climate objectives. To help make this happen we need a decisive and proactive government that works together with the business community."