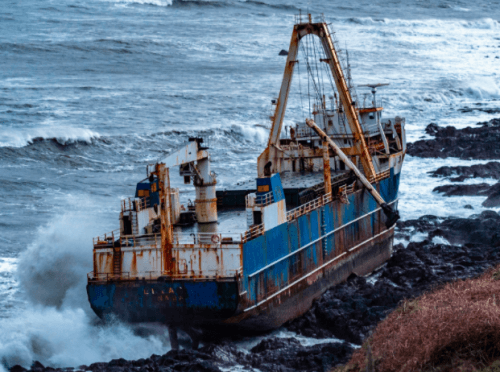 An abandoned cargo ship has washed up in Ireland after more than a year adrift in the North Atlantic. 
The M/V Alta first made made headlines in October 2018 when the U.S. Coast Guard rescued its 10 crew members approximately 1,380 miles from Bermuda, leaving the ship abandoned about twenty days after it became disabled during a voyage from Greece to Haiti. 
The vessel was again spotted in September 2019 by the Royal Navy's HMS Protector as it sailed towards the Bahamas to assist with Hurricane Dorian relief efforts. 
Its fate remained a mystery until Sunday when it washed up on along the coast Ballycotton, Cork during Storm Dennis.
The Cork County Council has now convened its Oil Spill Assessment Team to assess the pollution risk.
"Cork County Council, which has responsibility for land based oil pollution risk, is continuing to monitor this ship in relation to any possible oil spillage or risk arising from cargo," the Council said in a statement. 
"The Council understands that the vessel was most likely diesel fuelled which poses less risk of pollution than heavy fuel oil. The exact risk level cannot be confirmed at this time. The ship will be inspected tomorrow in day light and from a land vantage point in order to access this further"
Officials are asking that the public stay away from the wreck, which is located along a dangerous and inaccessible stretch of coastline as salvage plans are formulated.