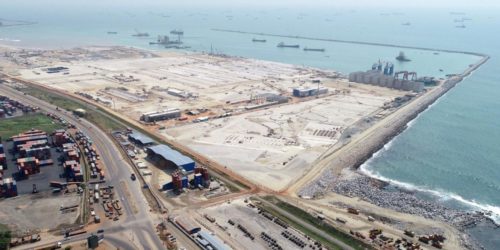 The Port of Tema in Ghana has received seven ship-to-shore and 20 RTG ultra-modern gantry cranes that will be installed before the ports inauguration in June this year. 
The cranes are the final part of the of a USD1 billion investment by APM Terminals and Bolloré Africa Logistics, Meridian Port Services (MPS) and the Ghana Ports & Harbors Authority (GPHA). 
Crane commissioning and operator training is currently being undertaken with the Port projected to be open and fully operational on the 28th June this year.
The expanded port will be able to able to accommodate the world's largest container ships in their breakwater and access channel, commercial vessels are expected to arrive at the and the first 2 deep-water berths by end of the June 2019. Infrastructure and facilities for receiving and delivering containers from/to shippers and consignees are also expected to be fully operational.
The planned third berth will be operational in the first quarter of 2020, ahead of the originally scheduled completion date of June 2020. A fourth berth will be built soon after that will increase quay length to 1,400m in total.
The port will be one of those most advanced in the world due to the seven new Super Post Panamax ship-to-shore cranes that are some of the largest in the world. Each crane has a towering height of 89 meters, and 134 meters high with the boom raised, this is equivalent to 40-50 story building. They provide a 50.8m lift height (above rail) and a 66-meter outreach capable of handling containers on board vessels up to 23 rows, and over 10 on deck. They have a maximum lift of 65 Ton (Twin Lift).
Along with the Panamax cranes, the Port of Tema will also have a fleet of 20 eRTG (Electric Rubber Tyre Gantries) capable of stacking containers 7 wide and 1 over 5 high in the container yards. The cranes are fully electric with no need for diesel, significantly reducing the impact on the environment.
The Port project managed by Meridian Port Services is a joint venture between APM Terminals (35%) Bolloré Africa Logistics (35%) and the Ghana Ports and Harbour Authority (30%).
The project was devised due to the current container facility, operated by MPS since 2007, reaching maximum capacity. The new port is promoting the country's economic growth, providing more than 5,000 jobs already. 
Copyright Ships & Ports Ltd. Permission to use quotations from this article is granted subject to appropriate credit given to www.shipsandports.com.ng as the source.