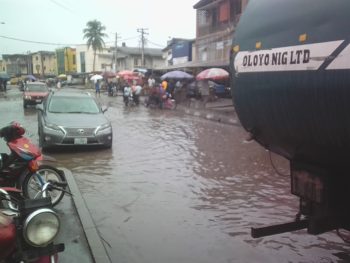 Apapa port access road which has become a source for concern due to its dilapidated nature turned messier with the rains. 
Most port users, workers and stakeholders who resorted to trekking because the road has remained impassable got drenched on their way to their various offices.
SHIPS & PORTS DAILY spoke to some of them on their experience.
Managing Director of HAF Oil & Gas Limited, Engineer Yinka Owolana said, "It's been very tough. As a maritime expert, I just have to do my job. I had to take a bike down here. I left my car somewhere in Surulere. It's very horrific. I just hope the government does something about the road as soon as possible."
An office secretary, Gloria Ohungbogbolayo said, "Apapa road is very bad with so many potholes. Despite the fact that I woke up around 4:30am I could not get to Apapa until around 12pm because the tankers, trailers blocked everywhere. Though it has been raining since yesterday, the whole place is highly messed up."
A clearing Agent, Juwon Adefabijo said, "It was hectic. I had no other option than to get my way here because it is my means of livelihood. I just have to do it. This calls for government's attention because the roads are terrible."
A legal practioner, Barrister Hilary Nnechekwu said, "The road is messed up. My shoe is wet; my clothes are wet. All the way from Mile 2 it's been raining. Getting down there, there was no way for the vehicle to continue so everybody had to trek because the flood could not allow vehicles to drive down. So I used bike to get here.  I have a car I could not take it because I know it has rained so the best thing is to take commercial vehicle."
A freight forwarder, Durojaiye Seun said, "It is terrible. From Coconut I trekked to Second Gate then I picked Marwa(tricycle) from Second Gate to Apapa and that's how it has been happening for the past three months. Sometimes, I take bike Because I can't afford Taxi."
A stakeholder, Daniel Paul said, "Honestly, it is pathetic because if at this time in Nigeria we are still thinking of how to get to Apapa and how to go back then it is a shame. By now we should have drainage. There's a very sad story about this road because it has to do with this road. I lost a friend about 2 years ago when there was so much traffic on this road.  On that fateful day the wife was beside him and he was inside the traffic. The next thing we heard was that the guy died on the marine bridge inside the car because of the heat and the stress that has been happening every single day."