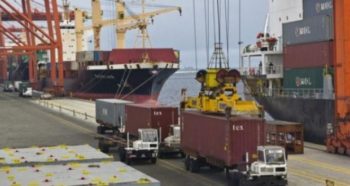 By Jite Eriabie 
An Indonesian port worker was killed on the job at the International Container Terminal Services Inc (ICTSI) facility in Jakarta overnight, according to a statement from the International Transport Workers' Federation (ITF).
A 40-year-old man was fatally crushed at 22.10 local time when a refrigerated container was dropped onto his truck, crushing the cabin and killing the driver, ITF said citing local union reports. This is the second workplace fatality at the Port of Jakarta in three weeks.
International Transport Workers' Federation President Paddy Crumlin said that this accident could have been avoided "if the ICTSI Jakarta terminal was properly run."
"While we cannot pre-empt the findings of an official inquiry, ICTSI has a demonstrably poor record when it comes to safety in the workplace," Crumlin said.
"This incident raises serious questions about ICTSI's traffic management systems and specifically whether they had adequately separated moving vehicles from suspended loads.
"Given their chequered history, we also need a thorough investigation into whether poor maintenance and equipment failure have played a role in this tragic death of a worker.
"Extreme fatigue will also need to be investigated. Like many workers at ICTSI, this man was employed by an outsource labor supply company called Persada.
"Low-paid outsource workers at ICTSI terminals are paid poverty wages and frequently work massive hours just to make ends meet. The link between high rates of outsourcing and bad safety outcomes is well documented," he said.
The ITF last month launched a global report into ICTSI which the union alleges showed a pattern of severe safety deficiencies across the Philippine-based company's network of terminals.
The report pointed to the lack of adequate systems to separate people and machinery, and a failure to safely manage the risks of suspended loads, along with a number of other issues.
"Many of these violations are in breach of domestic law in the countries where ITCSI operates and contravene international labor conventions.
"They also contravene ICTSI's own policies and statements, and call into question the company's ability to effectively manage their global business and ensure the same standards and performance across all of their terminals," Crumlin said.
This month the Government of Papua New Guinea has been the target of global protests calling on the government to review the decision to award port operations in Lae and Port Moresby to ICTSI.
"After today's tragedy, these protests are set to continue until ICTSI changes its ways and begins to engage with unions and their workforce to ensure fair wages and safety on the job for all of their dockworkers around the globe," Crumlin added. 
Copyright Ships & Ports Ltd. Permission to use quotations from this article is granted subject to appropriate credit given to www.shipsandports.com.ng as the source.