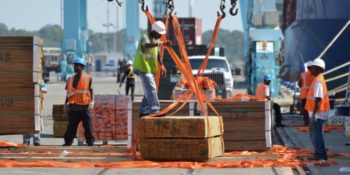 Spanish port workers said they would go on strike for three days this week to protest against the reform of operations aimed at liberalising hiring practices in a heavily-unionised sector.
The strike action is set for today (Monday), Wednesday and Friday.
Around two-thirds of Spain's imports and exports pass through its ports, and prolonged industrial action could be painful for the country's automobile industry and chemical sector, and ruin fruit and vegetable cargoes.
Last month, Spain's parliament passed the long-delayed reform to bring port regulation closer to that of the European Union after months of fines by the EU for failing to crack down on closed-shop hiring.
Companies currently have no say over hiring and firing at Spanish ports.
The new law aims to permit them to choose their own staff rather than being bound by union-approved lists.
Workers last week cancelled five out of eight days of planned strikes – which spanned every other working day between May 24 and June 9 – after port representatives said they had reached a preliminary agreement on workers' rights with dockers.
But unions said they would now press ahead with the remaining three days of strikes after talks broke down over safeguarding the more than 6,000 jobs in Spanish ports.
Copyright Ships & Ports Ltd. Permission to use quotations from this article is granted subject to appropriate credit given to www.shipsandports.com.ng as the source.