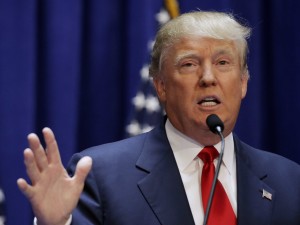 The Trump Administration's decision to withdraw from the landmark Paris Agreement on climate change puts added pressure on the International Maritime Organization (IMO) to cut greenhouse gas emissions from international shipping, environmental NGOs said Friday.
The Paris Agreement, which was agreed to in December 2015 by 195 countries including the United States, marks the most significant agreement in history to address global climate change, and seeks to limit global warming to below 2 degrees Celsius and drive efforts to limit the temperature increase to just 1.5 °C above pre-industrial levels.
Although international shipping (and aviation) is not included in the Agreement, NGOs say the United States' withdrawal only raises the pressure on just about all major industrial sectors, including the maritime sector, to deliver their fair share of carbon cuts.
It is widely understood that international shipping accounts for a little over 2% of earth's man-made CO2 emissions, collectively ranking it among one of the world's biggest greenhouse gas emitters, which is why many argued that it should have been included in the final Paris Agreement. But since shipping was not included in the Agreement, the responsibility now falls on the International Maritime Organization, as the global regulator for the sector, to further reduce overall CO2 emissions from the sector – a challenge which it has accepted head-on.
So while the White House's decision does not directly impact climate talks at the International Maritime Organisation (IMO), it does add pressure, according to some NGOs.
"As the US shirks its climate responsibilities the importance of action by other big emitters like international shipping only grows", said John Maggs, Senior Policy Advisor at Seas At Risk, an umbrella organization of marine environment NGOs across Europe. The organization includes some of the same NGOs that also fought for shipping's inclusion in the Paris Agreement.
For its part, the IMO has already taken measures to reduce emissions from shipping and has agreed to put in place global targets for greenhouse gas emissions by 2023, which are to be decided on in 2018.
Bill Hemmings, Director, Aviation and Shipping, Transport & Environment said the United States' pullout puts even greater pressure on the shipping industry, saying it is "now or never" for the IMO to act on climate change.
"We will be watching and pressing all IMO member states, particularly some of those flags of convenience representing such a large proportion of the world's fleet not to backslide. Already proposals on the table from the International Chamber of Shipping (ICS) and others hardly deviate from business as usual. It's now or never for the IMO to act and time for the EU to implement an "insurance policy" should IMO fail," Hemmings said. 
Copyright Ships & Ports Ltd. Permission to use quotations from this article is granted subject to appropriate credit given to www.shipsandports.com.ng as the source.