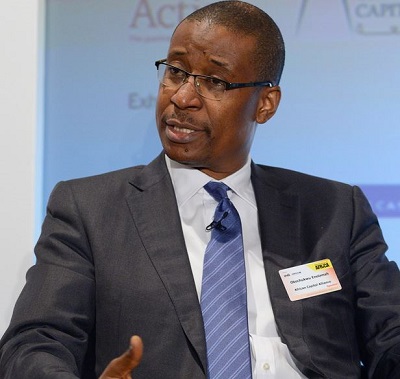 By Ace Omozuwa
Nigeria maybe left in the lurch, if policies are not formulated and implemented for us to integrate into the global system of digital economy. Globally, the digital economy is evolving at tremendous speed. It has become a criticaldriver of innovation, competitiveness, and inclusive economic growth. It is changing the fortunes of entrepreneurs and small and medium-sized enterprises (SMEs).
The picture painted by the President of the World Bank Group, Dr. Jim Yong Kim, of Africa's preparedness to digitize her economyis not rosy.  He candidly and categorically posits, "Africa is not prepared for digital economy." Kim made this known at the recently concluded 2018 IMF/World Bank spring meetings. During the meeting, which was held in Washington D.C, heexpressed concern over the dreary attitude of policymakers in Africa to harness the boundless opportunitiesdigital economy presents for sustainable national development.
According to him, "We are extremely concerned that many African countries are not prepared to compete in what is increasingly becoming a digitalized economy… We also see evidence that many of the low-skilled jobs will be taken over by technology and there is also tremendous hope for technology in many African countries."
During a sessionon digital technology at the aforementioned IMF/World Bank meetings,which was moderated by Kim, Tony Elumelumade brilliant interventions. According toElumelu, "You can't talk about a digital economy in Africa without fixing critical infrastructure. Digital connectivity is a major issue in Africa and you can't fix it if you don't have reliable access to electricity.So, if we want to truly address the issue of a digital economy in Africa, these challenges have to be fixed."
Recent digital innovation like cloud computing, mobile web services, smart grids, and social media, are transforming business landscapes across the globe, and aiding the rapid digitization of economies. They are redefining the nature of work, opening new vistas of opportunities for enterprises, and changing the responsibilities of corporate leaders. Sadly, Nigeria is not poised to take maximum advantage of digital opportunities.
Our future economic growth is hinged on creating digital economy infrastructure and encouraging enterprises to adopt digital technologies in providing goods and services. According to a study conducted by McKinsey Global Institute (MGI) "Nigeria's digital economy could add US$88 billion and create over 3 million new jobs over the next 10 years."
The Minister of Industry, Trade and Investment, Dr. OkechukwuEnelamah,has demonstrated he is aware of the tremendous opportunitiesinherent in the digital economy. Hence, under his leadership, the Ministry is developing the "Smart Nigeria Digital Economy Project."
It is anticipated that Smart Nigeria Digital Economy Project will enable Nigerian youths to make economic gains from technological innovation. The project if well-handled will encourage innovation in business models, networking, and transfer of knowledge and access to international markets.
In a related development, last Thursday, the Federal Government launched a robust online portal, `iGuide Nigeria. The online portal contains vital information and relevant data for local and foreign investors.The Minister of Trade and Investmentis optimistic that the portal would significantly improve the Ease of Doing Business in the country.
The Executive Secretary, Nigerian Investment Promotion Commission (NIPC),Mrs.YewandeSadiku, highlighted the strategic nature of the portal: " iGuide is an easy to use online platform providing investors with up-to-date and pertinent information on the processes, procedures and basic costs of doing business in Nigeria. It is a marketing tool, as information on Nigeria's investment processes and procedures are on one platform for easy access."
One of the essential components of digital economy is having veritable   Government-to-Business (G2B) platforms.  iGuide is a good example of G2B. Essentially, G2B is online non-commercial interface between different tiers of government and the formal economy. It aims at providing economic information and advice on e-commerce best practices. In short and simple terms, it is internet-enabled interactionsbetween government agencies and trading companies.   One of the advantages of G2B is that it lowers cost of doing business. It saves time.  Electronic transactions are great time savers.
Hence, we could anticipate that the iGuide will ultimately attract foreign investment to Nigeria as it will bridge the communication gap between foreign investors and Nigeria bureaucratic elite.   This platform could address some of the major factors that have impeded the realization of our national aspiration to develop through attractive foreign investments.  It would certainly reduce corruption,red tape; improve conditions of infrastructure, taxes, and lackluster implementation of government policies.
There is a sense in which it will be right to say Nigeria does not entirely lack the infrastructure for a robust digital economy. According to available data 150 million Nigerians are active mobile users, over 60% have internet access. Over 20 million Nigerians are active Facebook users. Technology startups are booming and young ICT professionals are developing programs and apps that provide digital solutions to life problems, apps that provide education and entertainment as well as spur growth.
Nigeria's high smart phone penetration is revolutionizing e-businesses. It has made Nigerians are high-volume online buyers, and in fact, sellers. There is a steady growth in online sales. Hence, that sphere of enterprise must be regulated to boost buyers' confidence.  A digitized economy will create bigger markets for the goods and services of SMEs in Nigeria. Enterprising business owners in Nigeria are already using social media and e-commerce facilities to expand businesses beyond their localities.  The sum of direct contribution of the digital economy may be a fraction of Nigeria's GDP. However, the indirect contribution to the different economic sectors is essential and extensive.
What is urgently needed is clear policy direction towards economic digitization. An enabling policy environment for the digitization of our economy must address online financial safety issues, promote quality assurance, and minimize the possibilities of e-commerce fraud.
The Smart Nigeria Digital Economy Project, which seeks "to solve efficiency problems, improve competitiveness, and foster technology development and innovation", appears to exist solely in the realm of political rhetoric.  One cannot access online its policy prescriptions and detail objectives.
Without the right digital economy policies Nigeria cannot effectively collaborate with other nations and foreign businesses in win-win manners. We need policy measure that will lessen the encumbrance on business by establishing a process that facilitates data collection for multiple uses and streamlining redundant data.
Countries are eager to do business in Nigeria. But they need clear policy guide. Nigeria would have gained tremendously from the high-power delegation of Swedish business community, which was in Lagos and Abuja recently to boost Nigeria's digital economy and e-governance projects, if we have created the right policy environment for digital economy. We would have better aided their identification of business opportunities if we had robust data on every sector of our economy. Government should step in and reduce problems for business by providinginstant information and facilitate digital communication by e-business.
The window of opportunity is still open. Swedish companies and that of other nations seeking to develop sustainable and smart societies in Nigeria through innovations in finance, ICT, transport, energy, health and agriculture should be provided with relevant data that can guide the making of business decisions.
It is important to state that Nigeria's aspiration to become a cashless society will not materialize without digitalizing the economy.  And we know that becoming a cashless society will abate the culture of corruption.  It will promote greater accountability and transparency.
It is wise to also state that Nigeria cannot become a digital economy without investing in human capacity development. Our current budgetary allocation to education and healthcare does not suggest we are ready to develop the critical capacity that will drive the emerging digital economy.
Also, our hope to digitize the economy will be dashed if we do not invest in infrastructure. Power is critical.  Electricity is a human right. It should be available to all Nigerians.  For our economy to be digitized and our society cashless, governments should ensure near universal access to the internet.
Copyright Ships & Ports Ltd. Permission to use quotations from this article is granted subject to appropriate credit given to www.shipsandports.com.ng as the source.