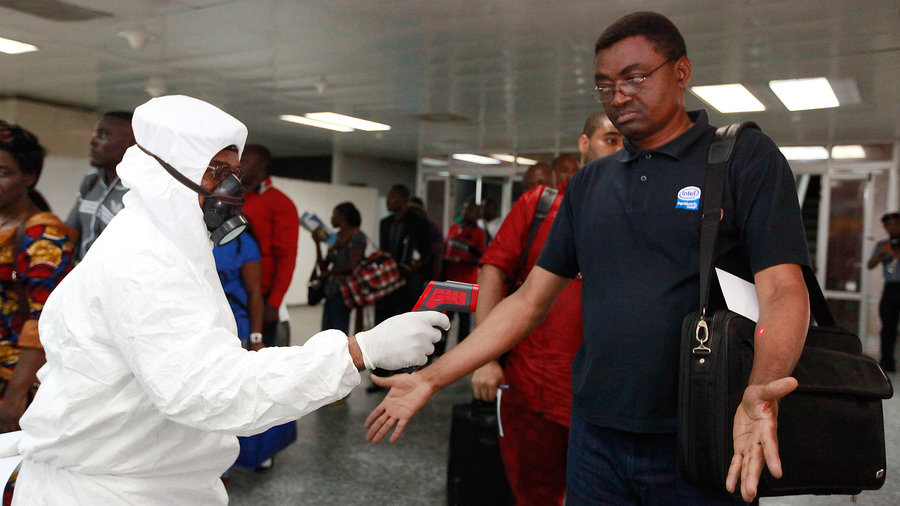 The year 2014 will go down in history as memorable for many reasons. It was the year when all Nigerians swiftly discarded the twin evil of ethnicity and religion that have divided them politically for many years, and embraced a united front against an enemy that possesses capacity to kill and destroy a population. The enemy was Ebola; and all Nigerians formed a formidable army against it. The same disease that international agencies had predicted could affect nearly one million people in Nigeria was caged by Nigerians before it spread into the wider population. Our success became the model for the world. For once, Nigerians were truly proud of their country because we collectively achieved the unprecedented. Former Chief Medical Director of the Lagos University Teaching Hospital (LUTH), Idi-Araba, Prof. Akin Osibogun, who was very effective in the team managing the emergency at the time reveals: "There was no APC or PDP. Everybody decided to work together. Lagos, an APC state, and the federal government under PDP had so much synergy. Same with our partners, including international agencies and experts." The Ebola scare and the united action against it proves the theory that a country is more united when they have a common external enemy to fight. Sadly, as soon as the battle was over we went back to our former way of life forgetting that the war is an unending one. Now a reminder has been sent from the Democratic Republic of Congo to prod back us into consciousness. Latest reports have it that the outbreak has spread from rural areas to a city of nearly 1.2 million people.
Already a total of 44 cases of haemorrhagic fever, including 3 confirmed cases of Ebola, 20 probable cases and 21 suspected cases, have been recorded since the outbreak was announced on May 8. There have also been 23 deaths among these cases, including one person who died from a confirmed case of Ebola. We may not consider the current outbreak in Congo as a threat considering that this is happening in Central Africa. However, we also need to realise that the world is now a small village; as people continue to travel and interact with one another, we will always be at risk of communicable diseases. Although the World Health Organisation is yet to declare the outbreak in Congo as a Public Health Event of International Concern, PHEIC, we need to activate our national vigilance.
So far, our aviation regulators have been responsive. The Nigerian Civil Aviation Authority (NCAA) recently issued circular urging international airlines to adequately screen passengers to avoid carrying infected individuals.  In the same way the Ministry of Health also appears to have swung into action through the Nigeria Centre for Disease Control, NCDC, which the government claims, had begun the coordination of a national working group that is assessing and managing the risk to Nigeria. In spite of assurances from the government, one still wonders if we are truly prepared for any health emergency judging by how poorly we have handled the outbreak of Lassa fever in the country.
Nevertheless, Nigerians have shown in the past that we can achieve anything when we are united.  Everyone needs to be extra-vigilant enough to prevent an outbreak in the country.  We need to reawaken our consciousness and embrace hygienic living. It is sad that the public institutions that should have promoted health consciousness have been in forgetfulness since we defeated Ebola four years ago. In my church, for many months, I noticed that the sanitizers were always in their designated positions with no liquid. Soon I got used to seeing empty containers every Sunday morning. Surprisingly, last week Sunday as I stretched my hand to make use of the sanitizer, the container responded in the positive. I was amazed but at the same time happy that finally we are being pushed to imbibe health consciousness. Visibly, the fear of Ebola is now the beginning of wisdom and health consciousness in Nigeria.
All Nigerians must become aware that Ebola is currently ravaging an African country and we need to take necessary precautions to avoid an outbreak in Nigeria. Every Nigerian should make it a duty to report strange health conditions. Initial symptoms of Ebola include fever, headache, muscle pain and chills. Later, a person may experience internal bleeding resulting in vomiting or coughing blood.
We must not be caught unprepared but more importantly, we must do all that is necessary to prevent the importation of the disease into Nigeria. As Prof. Akin Osibogun once said, "it is much cheaper to be prepared before outbreak than during the outbreak."