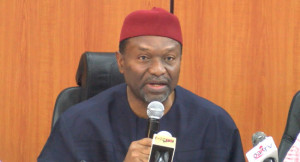 The Minister of Budget and National Planning, Udo Udoma, has debunked a media report credited to him that President Muhammadu Buhari would not sign the budget.
Udoma, described the report as untrue while responding to inquiries from State House correspondents at the end of the meeting of Federal Executive Council (FEC).
He noted that the 2018 Appropriation Bill had yet to be forwarded to the presidency by the National Assembly for presidential assent.
"The President is yet to receive the budget. It is, therefore, impossible to make a statement about a budget that has not been received.
"Once we get it, we will work very quickly on it."
"When it is submitted, I am sure the National Assembly themselves will inform Nigerians," Udoma said.
Both chambers of the Assembly had on May 16, 2018, approved the budget estimates submitted by Buhari on November 7, 2017.