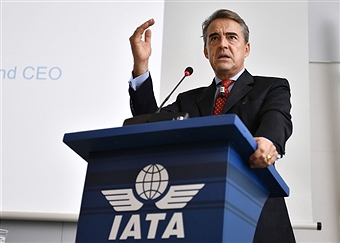 The International Air Transport Association (IATA), the global body representing 290 airlines comprising 82 per cent of global air traffic, is vehemently opposed to the notion of airport privatization as a sustainable model in boosting airport infrastructure.
The Director-General/CEO of IATA, Alexander de Juniac said privatization of airport infrastructure has not lived up to airline expectations.
This was contained in the Director General's Report on the Air Transport Industry at the 74th IATA Annual General Meeting (AGM) and World Air Transport Summit holding in Sydney.
"As customers of many airports in private hands, airlines have far too many bitter experiences. Travelers also sense the problem. According to Skytrax, five of the top six traveler-preferred airports are public.
"Motivated by our members' frustration, we did our own performance benchmarking. Privatized airports are definitely more expensive. But there is little difference in efficiency or investment levels compared to airports in public hands," said de Juniac according to IATA statement emailed to our correspondent yesterday.
In Nigeria for instance, the government has taken far-reaching decision towards concessioning four major airports in Lagos, Abuja, Kano and Port Harcourt, which has attracted wide criticisms and endorsement in some quarters.
De Juniac while calling for caution said, "Expecting privatization to be the magic solution is a wrong assumption".
IATA urged governments to find sustainable solutions to ensure the infrastructure needed to meet growing demand for connectivity.
"We are in a capacity crisis. And we don't see the required airport infrastructure investment to solve it. Governments struggle to build quickly. But with cash-strapped finances, many are looking to the private sector for solutions. We need more airport capacity", said de Juniac.
The association urged governments to facilitate the growth of global connectivity by avoiding creeping re-regulation, maintaining the integrity of global standards, and addressing a capacity crisis.
The DG said aviation's core mission is to deliver safe, secure, accessible and sustainable connectivity, adding the "state of our industry is strong and getting stronger.
"But there are challenges. Smarter regulation needs to counter the trend of creeping re-regulation. Global standards must be maintained by the states that agreed them. And we need to find efficient solutions to the looming capacity crisis," said de Juniac.
According to him, creeping trend of re-regulation, however, puts the gains of deregulation at risk.
Citing regulatory actions from around the world, de Juniac noted that regulatory over-reach now includes attempts to prescriptively regulate passenger compensation, seat assignments, the ticket options that can be offered to consumers and prices charged for various ancillary services.
"Regulations must add value. In assessing that, regulators must recognize the power of competition and social media to safeguard consumer interests. Governments should not distort market effectiveness with regulations that second-guess what consumers really want," said de Juniac.