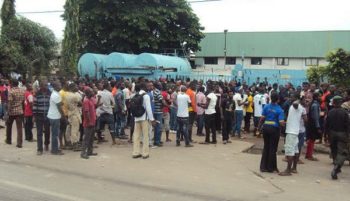 Activities at the ports in Lagos were yesterday grounded as workers' unions shut the ports' gates over the Ports and Harbours bill presently before the National Assembly, which they said would lead to massive job loss at the Nigerian Ports Authority (NPA).
Already, the bill which seeks to repeal the Nigerian Port Authority Act, 1955 as amended has been passed by the Senate and it is awaiting concurrent passage by the House of Representatives.
The protesters led by the President-General, Maritime Workers Union of Nigeria (MWUN), Comrade Adewale Adeyanju and President, Senior Staff Association of Communications, Transport and Corporation (SSACTAC) Maritime Branch, Comrade Benson Adegbeyeni are demanding that the national assembly stop the bill from being passed into law because of its security implication to the country and the havoc it will wreck on the workers.
Both Unions also threatened that if any further plan to make the bill a law continues in the national assembly, it will not hesitate to shut down the sector indefinitely.
Addressing newsmen, Adeyanju said the protest was carried out because relevant stakeholders in its making.
"What we have done today is a signal to all the stakeholders that you don't toy with the Maritime Workers Union of Nigeria. We are here because of the Ports & Harbours bill before the National Assembly. That bill has passed almost two readings now and we were not carried along. If the bill is passed, workers welfare will be in jeopardy. The bill is anti-workers," he said.
Also speaking, SSACTAC President, Benson Adegbeyeni said, "We are not against privatization. It is done abroad but it is being done with the workers because the workers also have a stake. NPA is Nigeria inheritance but if it is taken away by few people, you can imagine what will happen. We are not against privatization, but let the stakeholders be carried along," he said.
He said both unions will further deliberate on the matter to determine the next line of action.
MWUN had earlier petitioned the Speaker, House of Representatives, Yakubu Dogara pointing out several economic and security implications of the bill if passed.