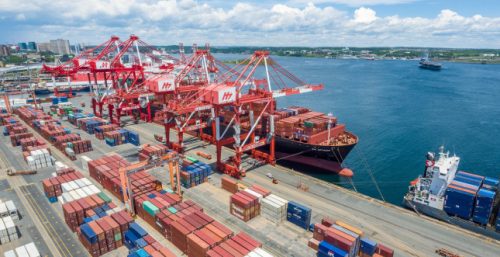 Singapore-based port group PSA International has completed the acquisition of Halterm Container Terminal in the Port of Halifax, Canada.
The facility was bought from Macquarie Infrastructure Partners, a fund managed by Macquarie Infrastructure and Real Assets (MIRA), which acquired Halterm back in 2007.
The completion follows formal approval by the relevant regulatory authorities from the USA and Canada.
The parties have not disclosed the value of the transaction, which was unveiled in May this year.
Halterm is the only container terminal in Eastern Canada that can serve mega container vessels. It operates three container berths covering more than a kilometer of quay length with a depth of up to 16 meters.
The terminal is currently undergoing further berth expansion, including the delivery of a fifth super Post-Panamax quay crane, which will enable Halterm to handle two mega container vessels concurrently in 2020.
"We are excited to welcome Halterm into PSA's global family of ports, as PSA's first coastal terminal in Canada. We look forward to working alongside the Halifax Port Authority, customers, staff and the local community, as well as key stakeholders like the International Longshoremen's Association and Canadian National Railway Company (CN) to further enhance Halterm's capabilities and connectivity to serve the needs of shippers in the greater hinterland of Canada and beyond," Tan Chong Meng, Group CEO, PSA International, commented.
In Canada, PSA also operates Ashcroft Terminal, British Columbia's largest inland port facility located approximately 300 kilometers east of the Port of Vancouver.
The Port of Halifax is Canada's Ultra Atlantic Gateway, connecting to more than 150 countries and generating CAD 2 billion in annual economic benefit from a diverse cargo and cruise business. Offering a natural, deep harbor and world-class infrastructure, the Port of Halifax can accommodate large volumes of containerized cargo, roll-on roll-off cargo and project cargo.