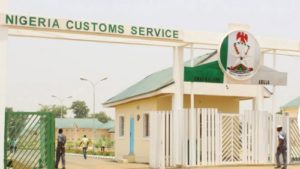 The PTML Area Command of Nigeria Customs Service (NCS) said it generated N62.8billion between January and December 2016.
Public Relations Officer of the command, Steve Okonmah said in a statement sent to SHIPS & PORTS DAILY yesterday that the amount was N613.5million higher than N62.1billion collected in 2015.
He said the command generated the highest revenue of N6.2billion and N6.3billion in the month of August and October 2016.
Okonmah said the increase in the command's revenue profile was made possible through the motivational directive from the Comptroller General that officers must ensure all revenue loopholes are blocked.
He added that the efficiency of the Area Controller and dedication of officers to duty also contributed to the increase.
Giving a further breakdown of the figure, Okonmah said the sum of N4.7 billion was realised in January while N3.8 billion and N4.8 billion were generated in February and March respectively.
He added that the sum of N4.1 billion and N4.7 billion was generated in April and May while N5.1billion and N4.9 billion was collected in June and July respectively.