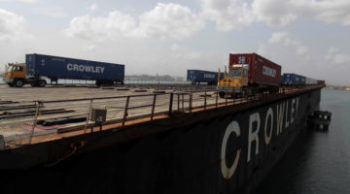 By Jite Eriabie 
Buckeye Partners has resumed operations at its marine oil terminal and storage tanks in Puerto Rico, which could help ease shortages of diesel and gasoline on the island two weeks after it closed the facility ahead of Hurricane Maria.
Buckeye last week reopened a truck terminal at its Yabucoa terminal, but fuel imports to Puerto Rico had been mostly limited to San Juan port and a lack of delivery trucks has made it difficult to replenish gas stations.
"Buckeye has safely resumed full service of its marine, truck and tank operations at the Yabucoa, Puerto Rico Terminal Facility and is available to meet the fuel needs of the island's businesses and residents," it said on Tuesday.
Yabucoa, located at the southeast of the island where Maria made landfall, is Puerto Rico's largest terminal, with capacity to store up to 4.6 million barrels of crude and refined products.
Puma Energy, which operates four terminals with capacity to handle some 3 million barrels and serves a network of 340 gas stations, has doubled fuel sales in Puerto Rico in an effort to reduce customer time this week.
U.S. President Donald Trump arrived in Puerto Rico on Tuesday to meet residents, many of whom are struggling to obtain necessities. Before leaving Washington, he said that roads were clearing and communications were coming back.
Consumer wait times for gasoline have dropped significantly, according to Governor Ricardo Rossello.
At the port of Guayanilla, the first tanker to arrive after the storm discharged liquefied petroleum gas on Sunday, according to Thomson Reuters vessel tracking data. The port of Ponce reopened on Saturday with restrictions, but has yet to receive cargoes.
At San Juan, fuel imports have continued at a slow pace. As of Tuesday, the tanker Beryl was discharging gasoline from Amsterdam, following the tanker Navig8 Strength, which unloaded diesel on Monday.
Three other tankers carrying fuel imports are waiting off San Juan and three more vessels are anchored near Guayanilla.
At Yabucoa, the tanker CT Cork, coming from Dominican Republic, was at the dock on Tuesday, according to the Reuters data.
In the neighboring island of St. Eustatius, U.S.-based NuStar Energy plans to have its 13-million-barrel Statia oil terminal fully reopened by mid-October, the firm said last week. Its resumption would help unclog oil flows across the Caribbean since Hurricanes Harvey, Irma, Jose and Maria affected shipments.   
Copyright Ships & Ports Ltd. Permission to use quotations from this article is granted subject to appropriate credit given to www.shipsandports.com.ng as the source.