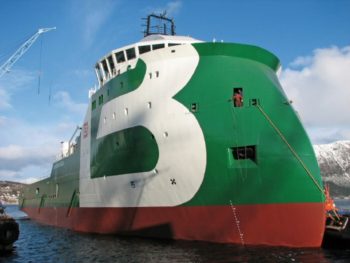 Offshore vessel owner Bourbon reported a hefty loss of EUR279.6m ($299.1m) for 2016 in what it characterised as the "most acute crisis" for marine services in 40 years.
The loss of EUR279.6m for last year compared to a loss of EUR76.6m in 2015. Revenues saw 23.3% fall year-on-year to EUR1.1bn in 2016 compared to EUR1.44bn a year earlier.
"The marine services industry is going through the most acute crisis of the last 40 years due to the sharp slowdown in offshore oil and gas," said Jacques de Chateauvieux, chairman and ceo of Bourbon.
"It is therefore a question of willingness to adapt to weather the crisis, but also to put in place the company's transformation, because tomorrow will not see a return to yesterday's model."
For the year as a whole Bourbon saw utilisation rates fall 12.8% to 62.8% compared to 75.5% in 2015. In the second half of 2016 utilisation rates dipped to 58.3% compared 73% for the second half of 2015. Bourbon had a fleet of 514 vessels in 2016 up three vessels from 511 in the previous year.
Average daily rates in 2016 dropped 15.8% to $9,586 compared to $11,381 in 2015. In the second half of 2016 average daily rates also sank further to $9,139 compared to $10,920 in H2 2015.
For the year as whole in 2016 Bourbon stacked an average of 70.6 supply vessels, or 29% of the fleet.
Looking ahead Bourbon did see some signs of improvement towards the end of 2017. "Positive signs are now visible of a recovery in exploration and production investment, especially in onshore, while offshore is expected to rebound at the end of 2017 and in 2018," it stated.
"These are the result of stabilizing oil prices and the need for oil and gas majors to maintain production levels and find new reserves in the medium term. Production support activity and maintenance operations on existing fields are expected to resume gradually over the next few quarters."
Copyright Ships & Ports Ltd. Permission to use quotations from this article is granted subject to appropriate credit given to www.shipsandports.com.ng as the source.