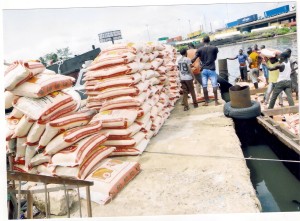 The Nigeria Agricultural Quarantine Service (NAQS) on Tuesday praised the Federal Government's plan to shut Nigeria's land border with a neighbouring country to curb rice smuggling into the country.
The Coordinating Director of NAQS, Dr Vincent Isegbe, gave this commendation in an interview with reporters in Abuja.
He said that the quarantine service was very in much support of the statement of the Minister of Agriculture and Rural Development, Chief Audu Ogbeh, regarding plans to shut the land border between Nigeria and a neighbouring country to stem rice smuggling.
Isegbe said, "Once the directive is given, we will make sure that it is passed to our officials in the affected border to ensure that no foreign rice enters the country.
"Our personnel have to double their work to ensure that nothing comes across; it is added responsibility for them because they have to be extra-vigilant and they will be actively involved.
"One of major problems we are having is produce smuggling. As we speak, a neighbour of ours is importing more rice than China.
"They do not eat parboiled rice, they eat white rice, they use their ports to try and damage our economy."
He lamented that majority of the imported rice had already been stored for 10 to 15 years in their country of origin and that such imports offered no guarantees against pest invasion.
"Any grain that has been stored for a long time has propensity to have pest invasion, which means the exporters must have been treating the rice against pests for long and so, the rice is not good for human consumption.
"Kebbi, Ebonyi and Niger states are doing very well in rice production and of recent, they have been producing good quality rice that is tasty, clean and nutritious. Besides, our rice mills now have destoning machines, so there is no fear of having stones in our rice," Isegbe said.
He added that the increased consumption of local rice by Nigerians would save a lot of foreign exchange, hitherto spent on rice imports, for the country, while the savings would be used to fund more meaningful projects.
"We should all encourage our rice farmers to produce more. We should also guard against the conversion of Nigeria into a dumping ground for all kinds of produce, including the harmful ones.
"The exporters make a lot of money by dumping their produce here; we consequently suffer the economic and health consequences of the action, and in the end, we lose as a country," he added.