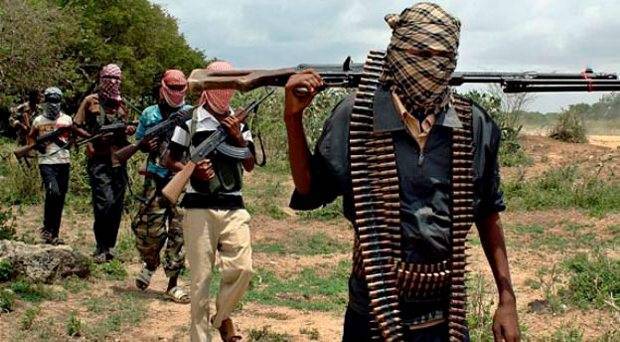 By Ace Omozuwa
The former governor of Kaduna State, Alhaji Balarabe Musa, rightly captured the state of insecurity in Nigeria when he noted; "Nobody is safe in Nigeria. Anything can happen to anybody at any time." He made this statement while having a live telephone interview with the political platform crew of RaypowerRadio on Wednesday, 13th December, 2017.
The most basic essence of government is to protect and provide essential public services to the citizenry. Everywhere government exits to protect citizens from violent crimes, and to provide public services that individuals cannot provide. Both the minimalist and welfarist views of government support these basic functions.
It is in harmony with both views that the 1999 Constitution of the Federal Republic of Nigeria clearly affirms that; "The security and welfare of the people shall be the primary purpose of government".  Government is constitutionally mandated to guarantee the security of the citizenry. This implies that if government fails to perform this constitutional obligation with utmost dedication, it will inevitably become a fifth wheel.
For many years, Nigerians have been battling with multifarious threats to peace. Many are victims of criminal violence.  Incessant violent crimes have dimmed the prospects of attaining national cohesion, socio-economic prosperity, and democratic consolidation. Terrorism and the sprouting up of ethnic militias across the six geopolitical zones have also quashed all hopes that every Nigerian can experience freedom from fear of violent attacks.
The state of insecurity in Nigeria questions the essence of social contract between the citizenry and government, which is predicated on the centrality of security to human flourishing and felicity.  Under the social contract, citizenries willingly abdicate their rights of self-protection to government, thereby, authorizing it to enjoy monopoly of force.
The social contract envisages that government will evolve veritable mechanisms to prevent, abate, and resolve violent external or internal conflicts perpetuated by state or non-state actors.
The former Head of State, General Abdulsalami Abubakar, recently expressed apprehension over the spate of insecurity in Nigeria.  He noted that the cost implication of the incessant violence is about $13.7 billion.  As huge and fair as the financial cost estimate is it does not capture other ramifications of violent crimes. This is understandably so.
What is the cost of one human life? How can we possibly compute the value of thousands of lives that have been savagely slaughtered? Is it possible to calculate the true value of thousands of properties destroyed by violent criminals masquerading as herdsmen? Can we calculate the social cost of the traumas victims of kidnapping undergo? How do we cost the disruption of the basic institution of society by terrorists?
Many families are sundered by criminal violence perpetuated by herdsmen, Boko Haram, kidnappers, and ethnic militias. Many children are separated from their parents. Many cannot access basic health care.  Also, many have become premature orphans. Without viable family structures how can human values be effectively transmitted from one generation to the other?  How can children fulfill their potential without parental nurturing, guidance, and support?   What kind of future awaits children deprived of quality education because of violent disruptions?  The point is insecurity has multilayered and multi-generational implications that do not lend themselves to easy computation.
Until government succeeds in its primary purpose it cannot succeed in its secondary purposes. In other words, government's efforts to diversify the economy by reviving the agro-allied sector cannot amount to much without widespread peace, stability, and security. The violent clashes between herdsmen and farmers can sabotage this lofty aspiration, and the quest to attain food security. Heavily armed herdsmen have made it difficult for farmers to enjoy the sweat of their labor, accumulate resources, and transcend the limits of subsistence farming.  Like devouring armies of locust they turn farms to deserts. What we are witnessing affirms the fact that the spirit of impunity rules anywherethe authority of the law is class sensitive, or somewhat exudes elements of ethno-religious biases.
Similarly, we cannot boost the inflow of foreign capital without making Nigeria a safer place to do business. Safety, security, and stability are determinants of industrial growth. They are the magnets that attract foreign investors. No rational industrialist is predisposed to making long-term investment in a nation that is seemingly at the cusp of disintegration.  For Nigeria to become an anthill of economic activities she would need to strength her security architecture, and make sure organized crimes are reduced to their barest minimum.
We must not forget that citizens' participation in the public realm is always abysmally low when there are threats to safety, personal dignity, and freedom of association. For citizens to massively participate in the activities leading to 2019 elections, and the elections proper, urgent measures should be taken to guarantee maximum security and safety for all Nigerians.
We must not allow naïve rationalization to delude us into playing the ostrich. Nigeria's history of politically motivated violence is not nascent. It has long historical roots that antedate the inglorious end of the first republic on January 14, 1966, and the start of atrocious military incursion into the civil realm of governance. There are many flashpoints in Nigeria's political landscape.  As the 2019 elections approaches, preventive measures should be put in place to ensure political tensions do not snowball to violent crimes. This is important against the backdrop that the key definers of politics and elections in Nigeria are violent crimes, kidnapping, assassinations, and arson. 2015 was an exception. Largely, due to the dove-like qualities of former President Goodluck Jonathan. If utmost care is not taken that miracle of post-election nonviolence may not be replicated.
We long for the era when contestation for political power will not be fuelled by animosity and violence. We long for the day when decorum will govern political activities, and social relations in Nigeria. We long for the day when political gladiators will become less desperate, more astute, more civil, and put the nation first. Until then violent electoral crimes will remain an ugly reality of our collective existence.
Due to the prevalence of violent crimes, self-protection, self-arming now seems desirable. Many untrained but heavily armed vigilante groups are sprouting up like weeds. Hardly, is there a community without one or two vigilante groups.  Unregulated vigilantism could serve as a catalyst for chaos.  It could trigger wanton communal conflicts. When hungry youths are armed, criminality will most certainly abound.
We seem to have forgotten some of the bitter lessons the civil war taught us. After the war, criminal activities thrived.  For, the then military government could not track and retrieve all the arms it imported to execute the war. Some of the arms were not returned by ex-military men. Some used the unreturned arms for nefarious activities, including arm robbery. Indeed, some youths who lost their jobs during the civil war had access to arms, and used them to inflict harm on defenseless citizens.
The point I seek to underscore is, vigilante groups may be performing some noble roles in society, but if they are unregulated, they will become instruments of social anomie. It does not make sense for the constructive use of violence or force to be de-monopolized. That could create parallel governments, like what is currently happening in Libya.  Thomas Hobbes' Leviathan illustrates the danger of living in a world of persistent insecurity with no government to ensure safety, law, and order, "protecting citizens from each other and from foreign foes."
It is heartwarming that the federal government under the auspice of the office of the Vice President is now engaging stakeholders with a view to finding lasting solutions to this untoward national security threat of herdsmen-farmer conflicts. This soft use of power is commendable. However, half measures will not make Nigeria safer. Government must demonstrate that this rather belated intervention is not a product of political expediency.
There are no ready-made recipes to peace. Nigeria's security threats are rather unique, but resolvable. All patriots must work together to ensure the sanity of human life is restored. Traditional leaders should not play clannish politics with security issues, because, as long as one Nigerian is endangered everyone is unsafe.   It is time for government to act and be seen as acting as a bride builder, a unifier of all ethno-religious groups. Insecurity will remain the order of the day if government is seen as taken sides with certain groups.
True security does not imply the nonexistence of threats or vulnerability to harm. It refers to the presence of a functional mechanism, and pool of expertise to deftly and promptly respond to threat, public danger and uncertainty.  Hence, the national security architecture should be revamped to deal with threat promptly, objectively, and expertly.  So, that, the individual pursuit of happiness will not circumscribed.
Copyright Ships & Ports Ltd. Permission to use quotations from this article is granted subject to appropriate credit given to www.shipsandports.com.ng as the source.