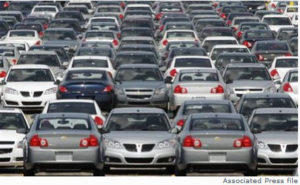 Foreign exchange constraints and the general economic downturn have led to a dip in importation of semi knocked down parts (SKDs) and fully built vehicles (FBUs) by 60 per cent.
Vehicular sales by automakers and dealers have also gone down by 50 per cent, as Nigerians focus more on foods and cutting down cost on luxuries.
This situation has pushed automakers into refocusing more on after sales, as many Nigerians would rather have their old vehicles maintained than to buy a new one.
Apparently reeling out the frustration of players in the industry, the Managing Director of Toyota Nigeria Limited (TNL), Kunle Ade-Ojo, who gave the depressive figures described 2016 as tough year for the company and the industry.
He said that owing to the foreign exchange constraints, level of importation of new vehicles had dropped by over 60 per cent between January and September, with retail sales dipping by 50 per cent.
With fears that the forex constraints may extend to 2017, the Toyota boss said corporate bodies who are big buyers of vehicles now resort to cost-cutting measures to remain in business.
"Prices of vehicles had doubled as a result of the forex constraint. As auto companies, we buy forex at black markets to increase turnover and avoid loss. But Toyota in Nigeria, we are built on a solid foundation and years of planning. We have also adopted cost-cutting measures and all these are helping  us to absorb the economic shocks now," Ade-Ojo told journalists during the company's annual press briefing last Wednesday.
Nigeria's leading local automobile assembler, Stallion Nissan Motors (Stallion NMN) has sterilised operation for some models due to difficulty in importing SKDs.
The company's spokesman, Manny Philipson said auto makers are sharing big "in the gloomy situation of the market."
"Now automakers can't import SKDs and demand has shrunk.  Nigerians now have very low disposable income and whenever disposable income is low, demand for vehicles also goes down. People will continue to use the old vehicle they have and do not buy new ones," Philipson said in a chat with SHIPS & PORTS DAILY.
The automakers are now focusing on aftersales services. The Toyota boss, Ade-Ojo said despite maintaining a four per cent rise in market share in 2016, the company would focus more on after-sale services by January 2017, bearing in mind that most corporate bodies and government agencies which formed the largest chunk of its clientele, would use their vehicles much longer.
Philipson also said Nissan is thinking towards same direction, but feared that demand for aftersales services by vehicle owners has also dipped.
"You think that ordinarily people will come to maintain the ones they have; yes they are coming but some of them cannot pay the bill because cost has also gone up. People who put like four, or five vehicles on the road at the same time, you know, one for the wife, one for the children and another for the man himself and yet another for the family, they have reduced considerably because of cost.
"Whatever money you have now, you want to channel it to feeding. So we are also badly affected by the situation right now. The market is gloomy. People can't even buy used vehicles now because prices of second-hand vehicles have gone up really big," Philipson said.