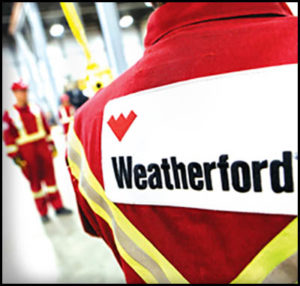 Some Nigerians working with an American oil and gas service firm, Weatherford International have raised the alarm over gross abuse of local laws and sharp practices being perpetrated by the Nigerian subsidiary of the company, Weatherford Nigeria, against them.
A source at the company, who spoke under condition of anonymity, said the firm has carried on with many anti-Nigerian policies such as mass sack on flimsy excuses and appointment of a foreigner as Country Manager in clear violation of Nigerian Local Content Act, which is one of the significant developments aimed at localizing management and control of oil and gas industry.
The source said apart from the fact that there were many qualified Nigerians capable of running the firm as Country Manager, the foreigner who was appointed, Manuel Hernandez from Venezuela, came into Nigeria via Business Visa and has been working as an expatriate without the necessary work permit.
Going down history of the firm, the source said a Nigerian, Femi Thomas was appointed as Country Manager of the company and was there for about two years before he was redeployed as Vice President for Africa, while another Nigerian, Femi Akarikiri was appointed to succeed him, only for the said Akarikiri to be demoted after just a year in office and replaced with Hernandez.
According to the source, "The first issue is that this is not an industry where you can claim there are no qualified Nigerians for the job because oil and gas industry in Nigeria is fully sophisticated. Number two is that for the fact that you have had Nigerians in that position, the position has been nationalized and so you cannot go back and revert to say that you now need to bring an expatriate.
"The third issue is that you lay off a lot of Nigerians because you claim the industry is bad and you have no money to pay but yet the question is how can you afford to pay expatriates if you have laid off Nigerians who earn a fraction of what the expatriates earn?
"By the time you look at that picture, what you see is a company that does not have any commitment to Nigeria or any respect to the ideals of the country. They want to get paid, they want to drill for oil, they want to make money, but where is the growth for Nigerians in that process? The average Nigerian employee in the company earn less than $1,000 a month, but the average expatriate earns $20, 000 a month or more. How can you afford one expatriate if you lay off Nigerians on the basis that you can't afford to pay them," the source queried.
Already, the source said the Nigerian Content Development and Monitoring Board (NCDMB) has been notified of the development, but that there was great need to raise alarm over mass sack of over 100 Nigerians and other deliberate plot of the company against Nigerians for prompt action by the Nigerian government and other key stakeholders.
Another credible source, who equally does not want to be named, said as part of the plot to sideline Nigerians from the management of the company, the said Akarikiri was demoted from Country Manager to sales role in a market where there is nothing to sell, adding that the development was purely orchestrated to eventually fire him.
He added that in another scheme to disguise the actual intention of sidelining Nigerians in the affairs of the company, a Nigerian who was on international assignment in Ivory Coast was brought in on the promise of being attached to the said Hernandez, but he was surprisingly moved to Port Harcourt and put in a lesser role from what he was doing in Ivory Coast.
He said the expatriates that were purportedly fired alongside Nigerians were offered jobs in other countries, while Nigerians were left with nothing.
"The truth is this same company has been sued in the past by former directors for sham board practices and as we speak, there are a number of others contemplating suing them. Well meaning Nigerians should be careful of doing business with them and they should not be allowed to continue to benefit where they are shortchanging Nigerians," the source said.
As at the time of filling this report, several calls made to the Company Secretary/Legal Counsel, Lara Falashe and text messages for reaction were unanswered, while the calls were not returned.
Copyright Ships & Ports Ltd. Permission to use quotations from this article is granted subject to appropriate credit given to www.shipsandports.com.ng as the source.