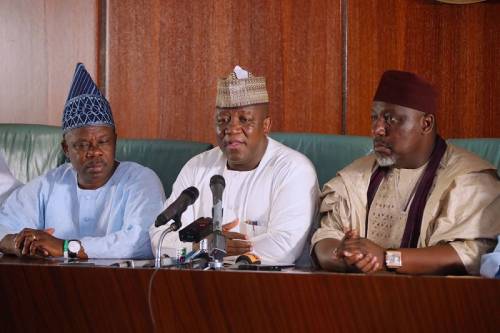 By Omotilewa Quadri
Governors of the 36 states of the federation said they cannot pay N30,000 as new minimum wage because the amount will force the states into bankruptcy.
They however gave two conditions for payment – review of the nation's revenue sharing formula and substantial reduction of workforce – if labour insists on the new minimum wage proposal.
The governors spoke after a meeting of the Nigerian Governors' Forum (NGF) in Abuja on Wednesday night.
Labour insists that President Muhammadu Buhari should uphold the N30,000
minimum wage it proposed and pushed through a tripartite committee set up by the Federal Government. The committee submitted its report last week to the President.
Before the completion of its sittings, the Federal Government proposed N24,000 minimum wage; tates proposed N22,500 while organised labour declared a national strike which was aborted by the agreement of the panel to propose N30,000.
The governors have raised a panel of eight to meet with President Buhari next week on their concerns.
The President will need to take the N30,000 proposal before the Federal Executive Council (FEC) and the Natonal Council of State (NCS) before sending a Bill to the National Assembly for a new minimum wage.
Governors of Lagos, Kebbi, Plateau, Bauchi, Akwa Ibom, Ebonyi, Enugu and
Kaduna are in the panel to meet with the president.
Zamfara State Governor, Abdul'aziz Yari, who is the chairman of NGF, said he was sad that the N22,500 proposed by the states was not considered by the Ama Pepple-led tripartite panel.
Yari said, "We have seen what has been presented to the President by the committee. As a member of the committee, the Kebbi Governor (Atiku
Bagudu) said the committee did not take our submission of N22,500 because it came late.
"I am surprised how you can do this without the input of the states
because the states are the key stakeholders in this business. So, a
situation whereby our report is not taken or considered by the
tripartite committee to present to the President then I don't know how
the committee wants us to work.
"But we still say we want to pay but the issue is the ability to pay. If
we say 'no', it is about the ability to pay, just pay. I don't know how
this formula will come and I don't know how we can get solution to the
issue.
"The N18,000 today, when the President assumed office, 27 states were
not able to pay, not that they chose not to pay. So, now that you say
N30,000, how many of them can pay? We will be bankrupt. So, as
Nigerians, we should look at the issue seriously.
"While other people are saying that governors are flying private jets
and living in affluence, that one is not luxury but compulsory.
"The issue of government overhead cost, if you put it together with
personnel cost, it cannot solve this problem. Like Lagos that is paying
about N7 billion as salaries, if you say it should pay N30,000, it will
now be paying N13 billion. From our calculation, it is only Lagos State
that will be able to pay N30,000.
"As Nigerians, this is our country; there is no other country we have
and we should be fair to this country."
On the way forward, Yari said, "We will continue to talk with labour.
Let them see reasons why governors have difficulties. Some of us have
Internally Generated Revenue (IGR). For instance, the money Lagos State
is using to pay is not coming from Abuja. They have a way of getting
their money from the IGR and that is why they can afford to pay.
"They get money through VAT. Apart from Lagos, even Rivers cannot afford
to pay. So we have been crying out about this since 2011 but no one will
listen.
"One critical example is that some states ration their salaries while
some others put everything they earn on the table and ask labour to come
and see and they ask them to suggest how much should go for capital and
personnel cost.
"Some pay 70 per cent as personnel cost and 30 per cent for capital
projects and yet the states cannot pay and they put the remaining as
outstanding.
"If you are talking about oil, the price is not what it used to be; from
last year to date, it is $20 less from $75 to $55. So where is the money
to pay?
"We should not exploit this matter further. We are leaders today,
tomorrow others will be there. So, let us look at this matter seriously
to see how we can do it properly. It is our primary responsibility to
see that everybody is happy.
"It is the same labour that is pushing for the N30,000 that will still
turn around to say that the governors did not do any infrastructure and
how are we going to achieve that by paying only salaries?"
The Federal Government takes 52.68 per cent of the federation account
revenue; the states 26.70 per cent and the local governments 20.60 per
cent.