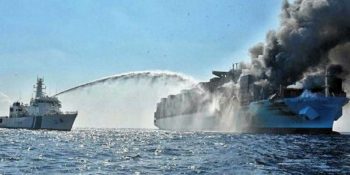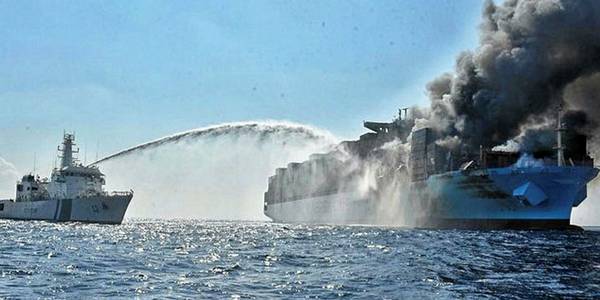 Four seafarers are now confirmed to have died in the fire onboard the Maersk Honam as the remains of three of four crew missing are found onboard the vessel.
Maersk said that the three bodies found on the vessel were as yet to be identified. Given the severe fire damage to the 15,252 TEU containership Maersk said it had conclude that all four seafarers missing were dead, which would bring the total death toll from the blaze to fire.
One of the 23 seafarers who managed to evacuate from the vessel after the fire started on 6 March later died from his injuries.
"Our most heartfelt condolences go out to families of our deceased colleagues. We share their sorrow and do our outmost to support them in this devastating time," said Maersk Chief Operating Officer, Søren Toft.
The Danish shipowner said a thorough search of the vessel was continuing and it said firefighting operations were "progressing". The fire was reported to have been brought under control on Saturday.
Of the 22 survivors all have received medical treatment and the majority have been released from hospital. Maersk said that seafarers that had been in intensive care had been moved to a general ward and were recovering well.
"Our colleagues that were evacuated to local hospitals in varying conditions of health are improving and we are now preparing to bring them back to their families as their condition allows," said Palle Laursen, chief technical officer for Maersk Line.
The India Marine Police is conducting an investigation into the fire.
The crew evacuated the Maersk Honam in the Arabian Sea on Tuesday last week after they failed in efforts to bring the fire under control.
The Singapore-flagged Maersk Honam was on enroute from Singapore to Suez with 7,860 containers, equaling 12,416 TEU, onboard at the time of the fire.