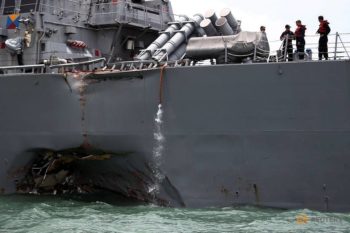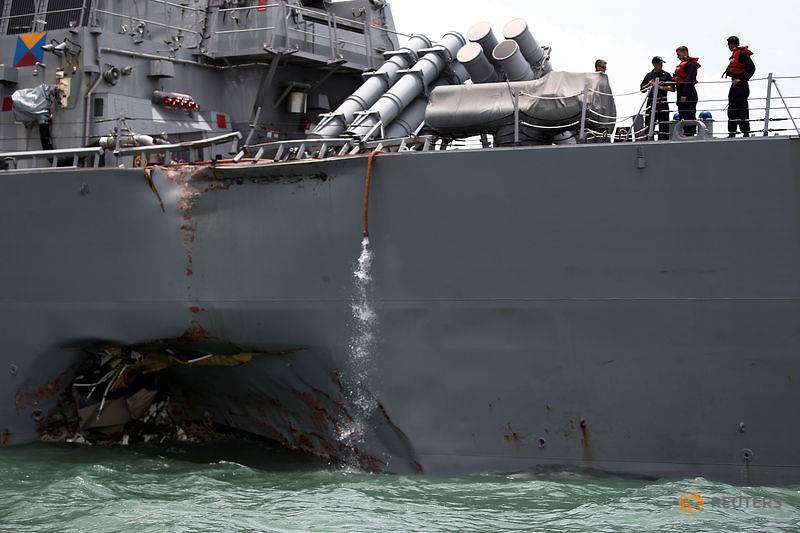 The US warship John S McCain involved in a fatal collision with the tanker Alnic MC in the Singapore Strait last August was caused by the naval vessel making a sudden turn to port, according investigating authorities in Singapore.
The USS John S McCain collided with the tanker Alnic MC at the entrance to the Singapore Strait on 21 August 2017 resulting in the deaths of 10 sailors on the US Navy vessel.
A report by Singapore's Transport Safety Investigation Bureau (TSIB) concluded that the accident was caused by a sudden turn by the warship resulting from confusing after a transfer of propulsion controls.
"The collision between JSM (John S McCain) and AM (Alnic MC) as they were transiting through the Singapore Strait happened because of a sudden turn to Port by JSM, which caused it to head into the path of AM," the report by the TSIB said. An unintentional reduction in the port engine's throttle increased the naval vessel's rate of turn to port.
'JSM's crew did not recognise the processes involved in the transfer of propulsion and steering control. The crew were likely to have lacked the requisite knowledge of the steering control system due to inadequacies in training and familiarisation," the report said.
Given the speed capabilities of the naval vessel the Master of the Alnic MC had assumed it would be able to pass safely ahead. 
"The collision happened within three minutes of JSM turning to Port, and the actions taken by AM were insufficient to avoid the collision," TSIB said.
In January this year the US Navy said that the Commanding Officer of the USS John S. McCain faced charges that include dereliction of duty, hazarding a vessel, and negligent homicide. 
A charge of dereliction of duty is pending against the Chief Petty Officer of the vessel. 
Copyright Ships & Ports Ltd. Permission to use quotations from this article is granted subject to appropriate credit given to www.shipsandports.com.ng as the source.