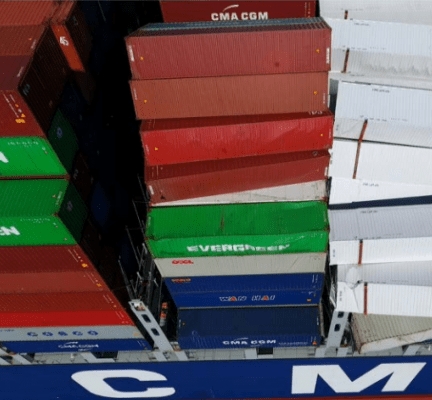 Inaccurate container weight declarations were partially to blame for the loss of 137 containers overboard from a CMA CGM containership underway in the North Pacific Ocean back in January 2018, the UK Maritime Accident Investigation Branch (MAIB) said in its investigation report into the incident. 
The incident took place early on 20 January 2018 when the UK-flagged containership CMA CGM G. Washington experienced very heavy seas in the North Pacific Ocean while on passage from Xiamen, China to Los Angeles, USA. At about 0127, the ship unexpectedly rolled 20° to starboard, paused for several seconds, then rolled 20° to port, initiating the collapse.
The following morning, the crew found that three container bays had collapsed, with 137 containers lost overboard and another 85 damaged. 
The MAIB's investigation into the incident identified a number of safety issues, including that the reduced structural strength of the non-standard 53ft containers, inaccurate container weight declarations, mis-stowed containers, and loose lashings, contributed to the cargo loss. 
"The amplitude of the ship's rolling exceeded the limits set by CMA Ships for the class of vessel; displayed by the loading computer and calculated by Bureau Veritas after the accident," the MAIB said in its conclusion.
The MAIB has made a recommendation to CMA Ships, manager of the CMA CGM G. Washington to ensure that, where container terminals routinely weigh containers prior to loading, the cargo plan is updated to reflect these weights.
The Maritime and Coastguard Agency also recommended UK container owners' involvement in Bureau Internationale des Containers databases.
Classification society Bureau Veritas, meanwhile, is recommended to amend its rules to require on board lashing software to display maximum pitch and roll angles for the vessel's condition, and to review its rules and approval procedure.