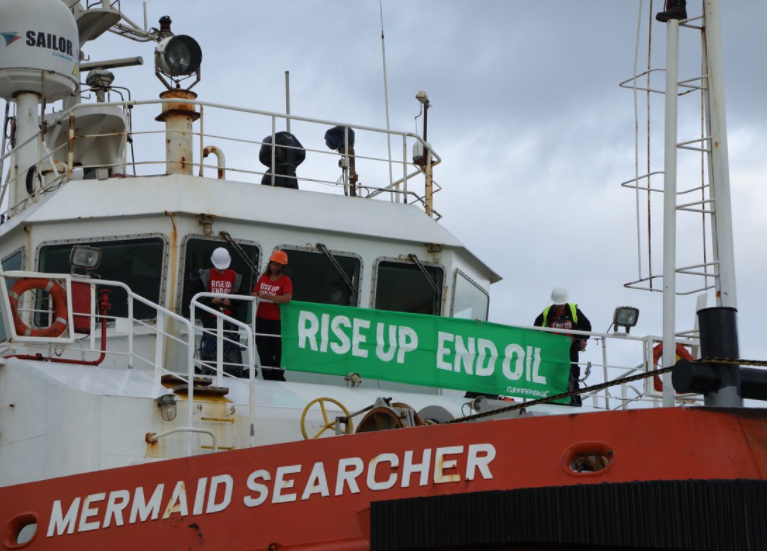 The New Zealand Government has decided to drop charges against Greenpeace following the organization's attempt to stop the Amazon Warrior seismic blasting in April 2017.
The charges were laid against the organisation after activists, including Executive Director Russel Norman and climate activist Sara Howell, swam in front of the Amazon Warrior, 60 nautical miles off the Wairarapa coast, stopping it from seismic blasting for the day.
The pair and Greenpeace were subsequently charged for the first time in New Zealand history under a controversial amendment to the Crown Minerals Act made by Simon Bridges in 2013 when he was Minister of Energy, known as the Anadarko Amendment, which outlaws peaceful protest against oil ships at sea.
Norman and Howell will still face charges for their part in the action. Greenpeace said that they will plead guilty and seek a discharge without conviction on the basis that their conduct was justified and necessary to bring about required change to government policy.
The news follows the government's announcement earlier this month of an end to all new offshore oil and gas exploration.
In early 2018, Greenpeace activists boarded the support vessel Mermaid Searcher in protest of oil and gas exploration when it arrived in New Zealand to collect resupplies for the Schlumberger-owned 125-metre long ship Amazon Warrior.
The activists appeared in court and were charged with unlawfully getting into a motor vehicle and with willful trespass, New Zealand media earlier reported.