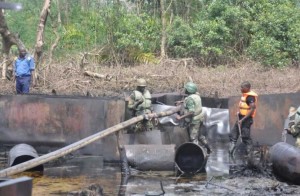 The House of Representatives has urged the military to desist from destroying illegal refineries in the country and adopt a global and a more standard system of dealing with it.
The lawmakers made the call on Wednesday after adopting a motion by Chidi Wihioka (Rivers-APC) on the need to address the menace of hazardous soot causing panic in Port Harcourt.
In the motion, Wihioka said that burning of the illegal refineries was partly responsible for the soot challenge.
Wihioka said soot could cause a wide array of health challenges to humans.
In his contribution, Deputy Speaker of the House, Yussuf Lasun, said that burning illegal refineries was not a solution to the problems in the coastal areas.
Lasun said that no Nigerian had complained that the petrol, kerosene, diesel and other products from the illegal refineries were inferior to the imported products.
He said it was high time the government sat with the operators of the illegal refineries to develop modalities for standardising them.
According to him, if the technology is developed, local companies could independently take over the oil sector without depending on foreigners.
Lasun said that a country could develop either through agriculture, technology transfer "or development of local technology''.
After the debate and adoption of the motion, the legislators urged the Federal Ministry of Environment and the Federal Ministry of Health to constitute an emergency team of experts to identify the source of the soot and propose remedy.
They asked the ministries to create awareness on the effect of the soot, adding that the National Emergency Management Agency (NEMA) should offer first aid measures to the people.
In his ruling, the Speaker of the House, Yakubu Dogara, mandated the Committees on Environment and Habitat and Healthcare Services to ensure compliance and report back within four weeks.