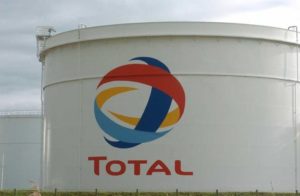 The House of Representatives has invited the Managing Director (MD) of Total Nigeria PLC to appear before it over a missing 35,000 metric tons of Premium Motor Spirit (PMS).
The missing petroleum product was discovered Wednesday at the on-going investigation hearing by the ad hoc Committee on the Review of Pump Price of PMS.
Documents tendered by the Department of Petroleum Resources (DPR), Petroleum Pricing Marketing Company (PPMC) and others exposed the missing product.
Committee Chairman, Nnana Igbokwe said the Committee could not trace about 35,000 metric tons of the PMS under the custody of Sea Clippers Shipping Company hired by Total to carry the products.
"The documents we have before us which were submitted by you (TOTAL) and DPR shows that 35,000 metric tons of Nigeria people's PMS is missing, where did Nigeria National Petroleum Corporation (NNPC) ask you to deliver the product", Igbokwe questioned.
In his explanation, Total's representative, Olalere Babasola pleaded for time, claiming that he was in possession of document to back his response to the committee's claim.
"I am quite convinced that we discharged the PMS because it is the NNPC that authorizes where to discharge products," he said.
The Committee was not impressed by Babasola's submission, "In view of the fact that Total cannot give the committee the whereabouts of the 35,000metric tons, the MD of TOTAL is hereby summoned to appear before the committee," Igbokwe said.
He also expressed concern over 35 queries issued to Total, on its failure to adhere to rules of engagement on lifting of products.
As a result, the oil company was mandated to make available, statement of fact, electronic receipts and clearance certificate for all products lifted and discharged, in addtion to documents on its indebtedness to the Federal government.
The Nigerian Ports Authority (NPA) was also condemned for delay of products and cargos in sea ports leading to accumulation of demurrage that was indirectly built into subsidy of the products by independent marketers.
The Committee regretted the burden is ultimately transferred to Nigerians as they buy the product.