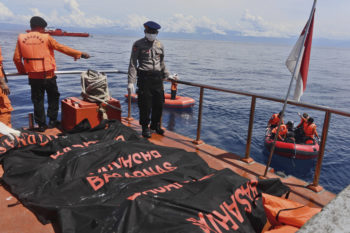 Indonesian rescue workers struggled on Tuesday in rain and two-metre waves to search for at least 128 passengers from an overloaded ferry that sank in Lake Toba.
The lake is a tourist destination in an ancient supervolcano crater on Sumatra island.
An estimated 18 people were rescued and one passenger was confirmed dead after the ferry sank on Monday evening when it was overcome by rough weather.
"Many people have reported their relatives missing," Budiawan, head of the search and rescue agency based in the nearby city of Medan, told Reuters.
The search and rescue agency was sending divers to look for victims in the lake's depths, he said.
"It might take time," he said, adding that bodies may be trapped in the sunken vessel.
Authorities were trying to confirm the total number of passengers who had been on board the ferry, but said at least 128 people were missing.
Lake Toba fills the caldera of a giant volcano that erupted some 75,000 years ago – one of the world's biggest eruptions which left behind a 450-metre (1,500 feet) deep lake.
The scenic lake, with an area of about 1,145 square km (450 square miles), has an island in the middle where tourists visit. Ferries run back and forth from the island to towns on the lake's shore.
There was no word on whether any foreign tourists were among the missing.
Video footage taken from another ferry just after the accident showed people on the second boat throwing life jackets to a dozen or more people bobbing about in the water.
There was no sign of the ferry apart from what looked like an oil slick.
The wooden ferry had a capacity of 60 passengers but was overloaded and also carrying dozens of motorcycles, an official at Indonesia's transport ministry, Sri Hardianto said.
Hundreds of rescue workers, including military and police officials, were helping with the search. Authorities also deployed an underwater robot equipped with a camera to try to find the boat, the Jakarta Post reported.
Distraught relatives of missing passengers held each other and cried as they waited for news at Tigaras Port, according to pictures from the scene.
Ferry accidents are common in Indonesia, a vast archipelago, especially during the Islamic holiday of Eid al-Fitr, which fell last week, when millions of people travel by land, sea and air to their hometowns after the fasting month of Ramadan.
Agency Report