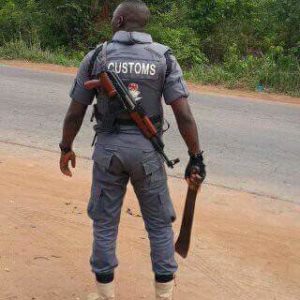 Motorists who have been severally subjected to harassment and intimidation by officials of the Nigeria Customs Service who mount various checkpoints on the nation's highways may now heave a sigh of relief as Customs Comptroller-General; Hameed Ali yesterday ordered the immediate dismantling of such checkpoints. 
Several Nigerians have complained that Customs officials stop them on the highways and demand Customs clearing documents of their vehicles, irrespective of how long they have acquired such vehicles. Many of the motorists end up being issued with debit notes running into millions of Naira and their failure to pay such bogus sum typically results in their vehicles being impounded. 
Importers and agents have also complained that they are stopped on the highways and their cargoes subjected to a fresh round of checks after such consignments have been legitimately cleared from the port. After being subjected to fresh checks on the highways, they are made to part with millions of Naira, depending on the value of their goods, or risk forfeiture. 
But determined to put an end to the nefarious activities of his officials, the Customs Comptroller-General yesterday directed that in line with the Federal Government's Ease of Doing Business policy, Customs checkpoints "mounted outside 40 kilometres to the border are illegal while information patrols outside this point should not last more than 24 hours at any given time". 
The directive was contained in a circular number 10/2017, dated 25th July 2017 and titled "Removal of all illegal check-points across the country". The circular, which was in compliance with the directive of the Presidential Enabling Business Environment Council (PEBEC), was signed behalf of the Customs Comptroller-General by Acting Deputy Comptroller-General, Dangaladima, A.A. 
Part of the circular, exclusively obtained by SHIPS & PORTS DAILY, reads: "The 40 kilometres radius applies only to the borders and consequently there should be no check points within the port areas.
"To further clarify these issues, it should be reminded strongly that only two check points situated at Agbara and Gbaji along Lagos-Badagry-Seme road are statutorily approved, for instance.
"Henceforth, Zonal Coordinators, Comptrollers FOUs, CACs, CIU and other Units will be jointly held responsible for flouting the directive.
"Ensure widest circulation for strict compliance, please." 
In a letter dated July 18, 2017, PEBEC had directed the Customs Comptroller-General Hameed Ali to issue directive to his officers "to ensure removal of all illegal check points across Nigeria". 
PEBEC's directive to Ali, signed by PEBEC Secretary, Dr. Jumoke Oduwole, reads in part: "Further to the mandate of the Presidential Enabling Business Environment Council (PEBEC) on the scoping of reform initiatives to be implemented under the new reform area, Trading within Nigeria, the Technical Committee of the Enabling Business Environment Secretariat (EBES), and Key Ministries, Departments, and Agencies (MDAs), including the Nigeria Customs Service (NCS), have commenced weekly engagements for the implementation this mandate.
"From the ongoing scoping exercise of the Technical Committee, the following reform initiatives have been identified and agreed as short term reforms to be implemented by the NCS before Friday August 11, 2017:
"Issuance of directive to all customs command across Nigeria to ensure removal of all illegal check points across Nigeria.
"Enforcement of compliance of the above stated directive.
"Creation of awareness on the approved NCS check points across Nigeria through publication on the NCS website and all NCS command office.
"Please be informed that the NCS will be required to provide a status update to the Council on the implementation of the above stated initiatives at next PEBEC meeting holding on August 15, 2017." 
Oduwole is also Senior Special Assistant to the President on Industry, Trade and Investment (Office of the Vice President).
National President of the Association of Nigerian Licensed Customs Agents (ANLCA), Prince Olayiwola Shittu commended the dismantling of illegal Customs   checkpoints in the country. 
He said Nigerians should expect more reforms to ease the cost of doing business in Nigeria. 
Copyright Ships & Ports Ltd. Permission to use quotations from this article is granted subject to appropriate credit given to www.shipsandports.com.ng as the source.