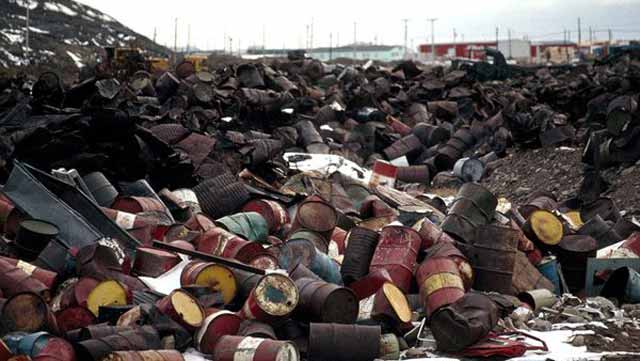 By Ace Omozuwa
In 1988, following the discovery of toxic waste in Koko, a small village in Delta state, there was a global outcry against the despicable activities of unscrupulous European waste dumpers.  World leaders, environmentalists, freedom fighters, and right activists described it asan act of "toxic terrorism."The inhuman dumping elicited robust discussions in many local and international fora. It led Greenpeace, in 1992, to coin the term "toxic colonialism." Greenpeace defined toxic colonialism as; "dumping of industrial wastes of the West on territories of the Third World."
There are different manifestations of colonialism in today's global power systems. Economic colonialism is prominent. Flooding markets in Nigeria with counterfeit products to the detriment of local industries is a form of economic imperialism. We shall return to this subject in subsequent pieces. For now, suffice it to state that economic colonialists unscrupulously act like the two Italian firms that reportedly made the arrangement for the shipment and illegal storage of 18,000 drums of toxic waste in Koko.
Decoy is their main instrument of trade. Mr. Gianfranco Raffaelli perfected the criminal dumping by misleading people into believing the hazardous containers were filled with building materials. Therefore, Mr. Sunday Nana rented his undeveloped plot of land in a residential area to him for mere$100 a month.
The atrocious dumping renewed the perception that some racial bigots in the industrialized westsee Africa as a badland occupied by subhuman being with whom they have very remote biological, sociological, political, and economic affinity. Sam Omatseye piece in the defunct African Concord rightly captured the prevailing mood at that time: "That Italy did not contemplate Australia or South Africa or some other place for industrial waste re-echoes what Europe has always thought of Africa: A wasteland. And the people who live there, waste beings."
On June2, 1988, the day that the media went public with the story, one of the principal actors in the saga, Gianfranco Raffaelli,quickly left Nigeria. He flew out of Nigeria to Europe without a passport.  It was a sad commentary on our airport security. It made Nigeria a laughingstock in the comity of nations.  However, his partner in crime, Mr. DesiderioPerazzi, could not escape justice. He was thrown into jail.
Before the infamous dumping, Gianfranco Raffaelli, an Italian importer, had resided in Nigeria for many years. He knew the flaws in our maritime security systems, and exploited them. He was notorious for diverting ships from their authorized destinations to Koko, and other smaller port cities, where cargo inspections were performed in subnormal standards.
Thankfully, the military regime of Ibrahim Babaginda did not handle the issue with kid glove. The regime compelled the Italian government to promptly remedy the crisis. While navigating theinternational maze of diplomatic niceties, the government went a step further and seized an Italian ship docked in Lagos harbor. That was the magic. In less than two months after the seizure, the Italian government sent two ships to evacuate the toxic waste from Nigeria, after many denials that the wastes were not toxic.
The then spokesperson for government, DuroOnabule,stressing the severity of the crime noted that: "We are prescribing the death penalty for any Nigerian, any foreigner, caught in the act of bringing in toxic waste. There will be no concession to appeals from foreign governments."
Many developments gave raise to toxic waste dumping. In the mid-1980s, Italy like many other industrialized nations did not have the capacity to process more than 20 percent of the industrial toxic waste it was generating. As a result, the cost of storing them soared astronomically. To keep their environment safe and health friendly, tough regulations on toxic waste management were enacted.
Many unscrupulous waste management companies in Europe saw this development as a cash cow. At that time, many Africa countries were going through season of economic austerity. They resorted to sending the waste to Africa in exchange for economic palliatives. These companies deluded some African nations into signing conditional aid agreement with them. It became an alibi for dumping dangerous chemicals.  Interestingly, Nigeria did not sign any of kind of those agreements.
The Switzerland-based logistics company, Intercontrat, was at the forefront of negotiating toxic-dump deals with many nations in Africa. Operating from Switzerland meant it was exempt from adhering to the European Community stipulation of informed consent.As a result, some nations like Benin Republic, for peanuts, signed such deals without fully knowing the grave health implications. In fact, Intercontrat and many other companies in the West misleadingly labeled the toxic waste they sent to Africa.
Before the Koko discovery, Nigeria was at the forefront of dissuading African nations from accepting toxic waste in exchange for aid. The Babaginda administration nobly harnessed the auspices of the Organization of African Unity (OAU) now African Union (AU), and the Economic Community of West African States (ECOWAS)to educate African leaders about the dangers of toxic terrorism. Hence, the then 16 member states of ECOWAS vowed to enact tough penalties for toxic dumpers, and established surveillance systems, dump watch. Toxic waste dumpers around the world knew about Nigeria's vehement opposition to the new norm, and other forms of predatory neo-colonial enterprises.
Due to Nigeria's anti-dumping crusade, and the pressure of global advocacy, in 1989, the Basel Conventionwas formulated. The Basel Convention is an international treaty of the U.N. It aims at preventing shipment, disposal,and storageof toxic waste from industrialized nations to developing countries without due process and informed consent. Italy ratified the agreement almost immediately. Sadly, America did not.
In view of the progress the global community has made to tame the nefarious activities of malignant waste dumpers, it is disturbing that there is a regression to that dark era of history.
In February this year, the media was awash with news reports that huge dumps of toxic wastes were found in Koko. Residents of Koko were alarmed to notice the conveyance of waste in barges and trucks. They contacted relevant authorities.
The oil waste management company, Ebenco Global Link Ltd,allegedly dumped the waste. Ebenco Global Link Ltdsaid the wastes were meant to be recycled. It affirmed that the sludge and slurry were not toxic, but were there because of their new waste to wealth scheme. However, some tests conducted in have shown that the wastes are toxic.
These two similar incidences, which transpired in different eras, illustrate the noble roles of citizens in building a just, equitable, safe, and prosperous society.  Citizens are vital to environmental protection. They play crucial roles in providing solutions to security threats.  Recall, it was Nigerian students in Italy that exposed the 1988 dump saga.
In March of 1998, the Italian press started publishing news report of the Koko dump. Ironically, Nigerian diplomats in Italy for no apparent reason failed to call the attention of the federal government to it. Thankfully, Nigeria students in Italy began to write articles about it. They sent the English translations of the news reports to Nigerian newspapers. Daily Times acted wisely, went to Koko, confirmed the story, and reported it.
Thecommendable roles of these students should serve as a citizens' anti-smuggling model. Import of counterfeit products into Nigeria cannot be stopped without the active involvement of citizens. Similarly, surveillance systems or dump watch schemes cannot succeed without the participation of citizens.
It is worrisome that the appropriate treatments and equivalent attentions governments and right activists gave to the 1988 saga have not been accorded to this recent discovery. Is it because the toxic and carcinogenic wastes were not imported? Is it because if pursued to its logical end it will expose scandalously poor practice of oil waste management that may indict regulatory authorities?
Whatever the case is, if Nigeria is to remain a safe place, the truism "eternal vigilance is the price of liberty," must dominate our national consciousness.   No other nation can take primary responsibility for our safety and wellbeing. Government cannot do it alone.  It is unwise for us to expect other nations to act in our best interest, while we play the ostrich.
Copyright Ships & Ports Ltd. Permission to use quotations from this article is granted subject to appropriate credit given to www.shipsandports.com.ng as the source.