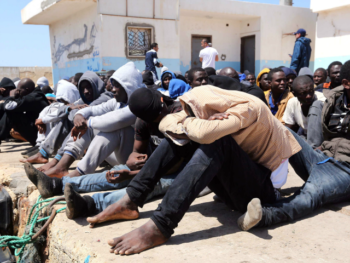 A 42-year-old man, Lucky Iyamu, on Tuesday explained how he narrowly escaped death when he was shot at by armed militia in Libya.
Iyamu spoke to journalists shortly after he and 333 other returnees were received by the Edo State Government in Benin.
He said he made up his mind to travel to France through the North African country when he could no longer provide for his family.
The father of two from the Uhunmwonde Local Government Area of the state, who was received by his little son on arrival in Benin, disclosed that the journey cost him N850,000.
Iyamu explained, "I left Nigeria on July 19, 2017. I just decided to go through Libya because I wanted to travel to France to make more money. I used to be a cameraman but the work was not moving.
"I have a family; I am taking care of my mother, a wife and two kids. I spent N850,000. The experience in Libya was very barbaric. The very day I was arrested, 233 blacks were shot dead in my presence in Shabashirim by the Libyan police and army."
He added that he survived by sheer luck as he did not think that he would return to Nigeria alive after he and 23 others were arrested and locked up in an underground prison.
He said, "That very day, on July 19, if someone told me that I would be alive, I would not believe it because I escaped from being hit by bullets. There is a type of gun called Arabatash in Libya. It is usually mounted on a vehicle, but that day, they held it in their hands. When the bullets zoomed past one of my ears and destroyed a wall, I had to surrender along with 23 other Nigerians; we were later taken to an underground prison."
Iyamu, however, commended the federal and state governments for coming to the aid of the stranded returnees.
"I am very happy and I thank the Federal Republic of Nigeria; I am proud to be a Nigerian. I did not expect what the Edo State Governor, Godwin Obaseki and President Muhammadu Buhari did for us," he added.
Also, among the returnees was a 23-year-old nursing mother, Alice Monday, who was delivered of a baby on Christmas Eve. The baby's father was a fellow Nigerian migrant, who fell in love with her in the North African country.
Monday, who hails from Akwa Ibom and claimed to be an orphan, said she embarked on the dangerous journey to earn a living.
She, however, stated that she did not know the whereabouts of the father of her child.
Copyright Ships & Ports Ltd. Permission to use quotations from this article is granted subject to appropriate credit given to www.shipsandports.com.ng as the source.