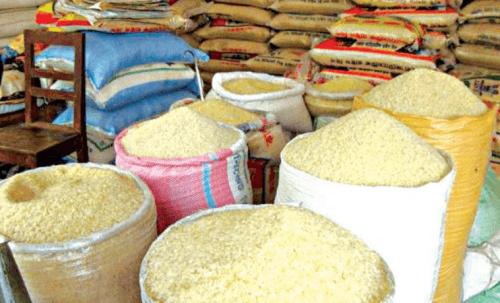 The price of locally produced rice has hit N25,000 per bag even as the Rice Millers Distributors Association of Nigeria (RiMIDAN) has warned Nigerians against panic buying; assuring that there will be adequate supply of the commodity during the yuletide season.
Before the closure of Nigeria's land borders in August, a bag of rice was sold for about N18,000 per bag.
Speaking in a chat with SHIPS & PORTS, RiMIDAN Secretary General, Shuiab Muhammed, also assured that the association will ensure that appropriate pricing was enforced and that no marketer hoards the product as adequate rice has been produced to meet demand of Nigerians.
He said following the border closure, millers have doubled their capacity to address the shortfall of about 500, 000 metric tonnes of rice, adding that in the next two years, Nigeria will not only attain self-sufficiency in rice production but would also be exporting the product.
"Nigerians should not panic buy because everybody just fears that because the border is closed, rice is going be scarce. We still have two more weeks to Christmas and if we can grow for the two more weeks, by the end of the year, the prices will begin to come down and there will be stock in January and we will have rice. So people should not panic buy and think that rice is going to get more difficult to get.
"Anybody that plans to hoard is actually trying to shoot himself in the leg because in a week or two, there will be panic sale because prices of rice will come down," he said.
Speaking on the hike in price of rice, which currently sells at N25,000 per bag at the local market, Muhammed said it was as a result of additional charges introduced by middlemen, whom he described as "influencers" between the millers and distributors.
"Rice processors agreed to sell rice between N14,000 and N14,500. If they are selling directly to the distributors, whatever they add to it would not be more than N1,000 so the price of rice should not be more that N15,000 to N16,000 in the open market but because of these influencers, that is why the price is high. But it is just a one-off thing. I am sure that by next year, the capacity of rice millers will double and there will be rice all over the place," he added.