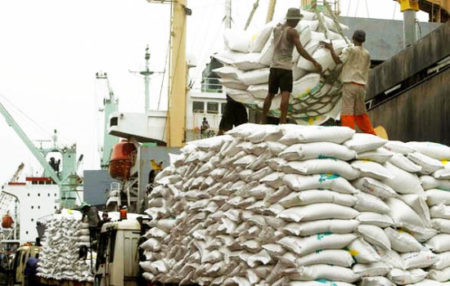 The Central Bank of Nigeria (CBN) on Tuesday said the volume of rice imported into the country has declined drastically in 2018, according to figures from official sources.
CBN's Director of Corporate Communications, Isaac Okorafor, who made this known in a statement, said by September, Nigeria had imported 5,161 metric tonnes of rice from Thailand and 426 metric tonnes of rice from India as of July.
He noted that this amounted to less than 6,000 metric tonnes in 2018 which is against the 400,000 metric tonnes being bandied around due to "expected demand by politicians for election campaigns".
Okorafor attributed the reduced imports to concerted efforts by the ministry of agriculture and rural development and the interventions of the CBN.
He disclosed that the ministry and the CBN had been collaborating to reduce the volume of rice importation through the "rice revolution".
According to him, CBN had not allocated any foreign exchange for the importation of rice in 2018, adding that the imports from Thailand and India were done on "not-valid-for-forex basis".
He said, "The figures being bandied in certain quarters were based on unrealistic assumptions such as satellite mapping of farms, expected demand by politicians for election campaigns and expected losses from flooding."
"All of these led to unauthentic conclusions that the country had imported or could import 400,000 more metric tonnes."
The CBN spokesperson also listed trade figures (including agricultural imports) for the second quarter of 2018 received from the National Bureau of Statistics (NBS).
The NBS data showed that the value of total imports dropped by 16.3 percent, from N2.51 billion in Q1 to N2.10 billion in Q2, making it -19.9 percent lower than the N2.63 billion recorded in Q1 2017.
"The report on the bureau's site showed that the value of imported agricultural goods in the second quarter of 2018 (N224.52 billion) increased by 21.7 per cent from quarter one, (N184.49 billion) and lower by -3.14 per cent from quarter two, 2017 (N231.80 billion)," the statement read.