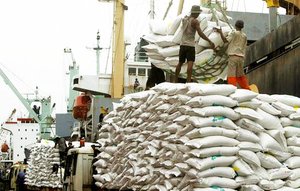 The Federal Government yesterday said rice importation from Thailand had dropped from 644,131 Metric Tonnes to about 21,000 MT between September 2015 and September 2017.
It said with this, Nigeria is close to achieving self-sufficiency in the production of rice, a major staple food in the country.
Nigeria is targeting the production of seven million tonnes by next year given that as at 2015, rice demand in the country was 6.3 million MT
Minister of Information and Culture Alhaji Lai Mohammed, who spoke at a news conference in Abuja, said the sharp drop in importation was based on figures from the Thailand Rice Exporters Association.
He predicted that the price of rice would soon fall due to mass production.
"We are happy to tell Nigerians of a giant stride made by the Administration in the agriculture sector, specifically rice production: Nigeria is inching closer to achieving self-sufficiency in rice, due to the success recorded by the Administration in the local production of rice.
" In fact, the Thailand Rice Exporters Association has recently revealed that within a spate of just two years – From September 2015 to September 2017 – Nigeria's rice importation dropped from 644,131 Metric Tonnes to just about 21,000MT.
"There is more good news to report: As a result of this Administration's success in local production, some investors from Thailand have shown interest in establishing rice milling plants in Nigeria, and this is sure to further boost rice production in Nigeria.
"Four investors from Thailand are already in discussion with the Federal Ministry of Agriculture to establish rice milling plants in Nigeria.
"You must understand that the investors from Thailand are here because they have lost over 600000 metric tonnes of imported rice into the country and it is a good decision to participate in what is happening here.
"A few years ago, this would not have been possible since Nigeria was not considered a top rice producing country. Today, Nigeria is one of the largest producers of rice."
"Gentlemen, the improvement in rice production across the country did not happen by accident. It is largely due to the Anchor Borrowers' Programme, initiated by President Muhammadu Buhari, which supports farmers through inputs distribution and loans to boost rice production.
"The increased rice production has, in turn, led to the establishment of rice mills, including the 120,000MT WACOT Mill in Kebbi and the 1,000, 000MT Dangote Rice Mill.
Mohammed said Nigeria was very close to rice sufficiency and likely crash of rice per bag.
He added: "So what does the increased production of rice portend for the country? It means, as I said earlier, that Nigeria is very close to achieving self-sufficiency in rice. By 2018, the Administration
targets rice production of 7 million MT. As at 2015, Rice demand in Nigeria stood at 6.3 million MT. There is also the fact that locally-produced rice is safer, tastier and healthier, in the words of the Honourable Minister of Agriculture and Rural Development, Chief Audu Ogbe.
" I know the question agitating your minds now will be: Why is the price of locally-produced rice still on the high side despite the increased production.  Suffice it to say, however, that the increased production is bound to eventually bring down the price of rice and also bring succour to Nigerians.
"While I must admit that prices of rice have not come down to the pre-2014 level because the countries where we import from always heavily subsidize their farmers, we must understand that prices would be coming down gradually and Nigerians will soon feel the impact. The most important thing is that we have taken a major step to cut down on imports and we will soon feel the effect of that in the price.
"There are other incentives that we have introduced to encourage those in the sector. For example, fertilizers used to sell for N11000 per bag but now sells for N5,500 and it is now available before planting season.
"We are peaking staple food where Nigeria has qualitative advantage like rice, maize and wheat. Maybe the impact of the drop is not being  felt now because a lot of the farmers are exporting these cereals which, in some sense, is a good thing."
Copyright Ships & Ports Ltd. Permission to use quotations from this article is granted subject to appropriate credit given to www.shipsandports.com.ng as the source.