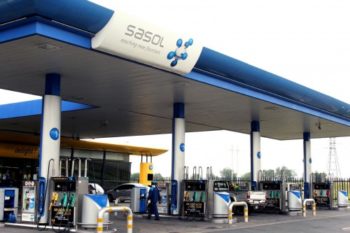 South African petrol-chemicals group Sasol has pulled the plug on all of its gas-to-liquids (GTL) greenfields projects including a U.S. one in Louisiana that carried a $13 billion to $15 billion price tag, the company said on Thursday.
Walking away from the project, which would have been the biggest investment abroad by a South African company, underscores the headwinds the industry is facing in a volatile market with generally depressed prices.
"While our current GTL assets are generating good returns and cash flows, the value proposition for Sasol to build new GTL projects is uneconomic against a volatile external environment and structural shift to a low oil price environment," the company said in a statement.
The company had previously delayed its final investment decision on the project because of low oil and gas prices.
Sasol will also divest from its Canadian shale gas assets which hit its 2016 earnings with a 9.9 billion rand ($715 million) impairment.
"There will likely be further write-downs on it," Sasol Joint CEO and President, Bongani Nqwababa, told Reuters. He cited prices and accounting requirements related to the pending sale as the main reasons.
But the company is forging ahead with its Louisiana ethane cracker project, which is now estimated to cost $11.13 billion to complete and will be the biggest foreign investment by a South African group. It is now 79 percent complete.
The plant will take ethane, a component of natural gas, and turn it into ethylene, used in the manufacture of plastic products.
Sasol said it had completed reviews on more that half of its global assets and they "have confirmed that the majority of the company's assets will be retained."
The company, which pioneered the conversion of coal to fuel when South Africa was subject to sanctions under apartheid, also said it saw no need to boost its crude oil refining capacity, which currently stands at 270,000 barrels per day in South Africa.
On the dividend front, the company is aiming to boost its payout ratio to 40 percent of earnings per share by 2022 from 36 percent currently, and then to progressively lift it to 45 percent.
Agency Report