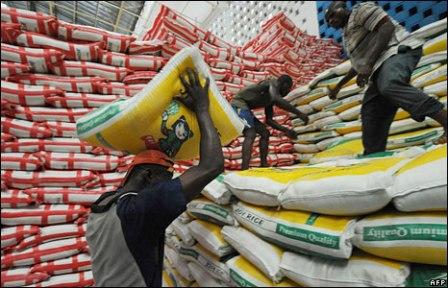 Rice importation into Nigeria would end by 2020, the Policy Adviser of the John Kufuor Foundation (JKF), Hon. Abraham Dwuma, has said.
He also said that Africa Rice Advocacy Platform (ARAP) under the JKF was also focused on achieving zero importation of rice on the continent.
Dwuma, while speaking in Ilorin, Kwara State, said the Africa Rice Advocacy Platform (ARAP) had created a rice value chain to achieve this.
According to him, "Two years from now, Nigeria should have no business importing rice because I have travelled the length and breadth of the country and I know the potentials.
"Kebbi State alone can produce all the rice Nigeria needS; talk more of Sokoto and even Kwara.
"'For, example, in Akwa Ibom, they have one of the best lands for rice production.
"When we came to Nigeria, farmers were doing 1.5 tonnes per hectare, now they are doing six tonnes per hectare two times in a year. We believe that with this platform, we will get there."
He said the foundation was borne out of the desire of former Ghanaian President, John Kufuor, to ensure that African farmers earn a living from rice production.
"When Kufuor won the World Food Prize, he said he realised that African farmers need a voice, then, if they need a voice, we have to bring them together.
"So, there was a need to do what we call the advocacy platform in four chosen countries; Ghana, Burkina Faso, Tanzania and Nigeria.
"Through this platform, we are not only talking to the government but to the farmers to improve their quality, their quantity and their work," Dwuma said.
He, however, noted that for the value chain to be sustainable, it should be supported by business modules.
"What we are doing now is that we are creating the rice value chain and for this value chain to be sustainable, we need to be supported by business modules at all levels of the cabin.
"We are creating what we call business modules. For instance, if someone is an input dealer, he will be able to bring the right input to farmers and the farmers are being educated to do it well," he said.
Also speaking, Secretary General of ARAP, Abdulrauf Lawal, said the platform had made rice production easy in order to halt importation.
"It is a pity that we spend over a billion naira per day to import rice, that is N365 billion per year which can be used to venture into other things like youth employment and improvement of social amenities.
"We are using this much to import when we can plant rice in Nigeria; we have various types of rice; swamp rice and irrigated rice that will start growing with good water and climate.
"With the value chain that we are creating now from production, processing to marketing and consumption, it will get better," he said.
Lawal, who doubles as the Deputy National Vice President of Nigeria Rice Advocacy Platform, however, noted that the platform was collaborating with the state chapters of the platform to support them.
Copyright Ships & Ports Ltd. Permission to use quotations from this article is granted subject to appropriate credit given to www.shipsandports.com.ng as the source.