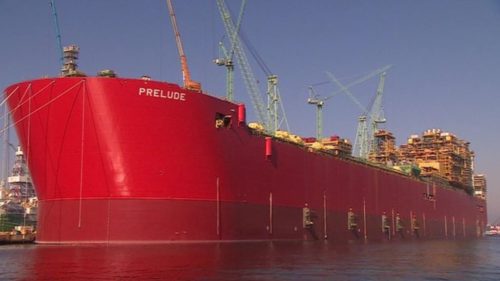 Dutch oil major, Shell, on Tuesday said it expects production at its Prelude Floating Liquefied Natural Gas (LNG) unit to start at the end of the year.
"We continue to progress Prelude towards operations, with safety and quality being our main focus. We expect to see production around the end of the year," a spokeswoman told Reuters in an emailed statement.
The FLNG will process natural gas produced offshore northern Australia and export it as LNG; it is expected to have an annual LNG production capacity of 3.6 million tonnes. It will also produce 1.3 million tonnes a year of condensate and 400,000 tonnes a year of liquefied petroleum gas (LPG).
Shell first decided to go ahead with the project in 2011. After long delays, it introduced gas to the 490 metre-long (1,600 ft-long) Prelude FLNG for the first time earlier this year as part of the cooling process before start-up.
It subsequently received a second LNG cargo in early October, Refinitiv Eikon data showed. Before an LNG project goes into commercial operation, a cargo is typically imported to cool down its production train.
Shell owns 67.5 percent of the Prelude FLNG project. Japan's Inpex Corp, Taiwan's CPC Corp and Korea Gas Corp hold the rest of the shares.