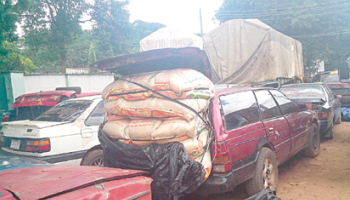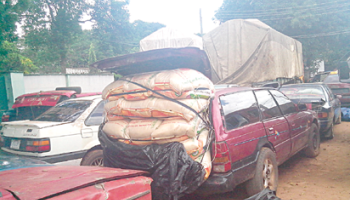 Rice smugglers have allegedly attacked operatives of the Nigeria Customs Service in Idiroko area of Ogun State destroying one of the customs patrol vehicles during the attack which took place last Saturday at Olorunda village, near Ilase.
Controller of the command, Comptroller Sani Madugu who disclosed this to newsmen at Idiroko on Thursday said the smugglers, who use motorcycles to smuggle bags of rice in the area, attacked the customs officers with axes and machetes.
Madugu said the men numbering up to 100 attacked his officers, who were on routine patrol in the area.
"My men did not fire any gunshot; they abandoned the operational vehicle and ran into the bush from where they called for reinforcement.
"The operatives were not intimidated; they refused to fire any gunshot to avoid killing innocent people. After the men left their vehicle, the over 100 smugglers, who used motorcycles for their illegal activities, descended on the operational vehicle with axes and machetes.
"They damaged the vehicle beyond repairs. However, three of the smugglers have been arrested and 17 motorcycles have been seized," he said.
The customs boss said the command had renewed its efforts to stop rice smuggling at the Idiroko border, adding that smugglers attacked customs men because of the operatives' effectiveness.
"There are new routes being used by rice smugglers. They also use motorcycles to smuggle rice from the creeks to the points where they are loaded into vehicles.
"We have effectively blocked them and they are attacking us.They attacked our men who were on routine patrol at Olorunda village, very close to Ilase."
Madugu said by attacking his men, the smugglers had 'murdered sleep and they should be ready for war as things would be hotter for them from now on' even as advised them to look for an alternative means of livelihood.
In related development, Madugu said the command burst a rice smuggling ring at Owode on Wednesday.
He said the command, acting on intelligence, swooped on the smugglers at their loading point and impounded eight vehicles loaded with bags of rice.
He said there were two "tokunbo cars" smuggled with the bags of rice.