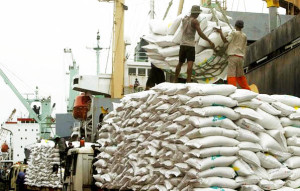 The Rice Farmers Association of Nigeria (RIFAN), Oyo State chapter, on Wednesday urged the Federal Government to sustain and make effective, the policy banning the importation of rice
The RIFAN Chairman in the state, Victor Korede, made the call in an interview with the journalists in Ibadan.
He noted that farmers needed favourable, progressive and consistent government policy in order to encourage mass production of rice and other produce, for food sufficiency.
Korede said building and acquisition of integrated rice of world class standard should be encouraged; adding that commercial production of rice should be made effective.
He said Federal Government could achieve this by encouraging local farmers to go beyond subsistence cultivation.
He said, "In the South, the government should assist in land clearing challenges facing farmers, irrigation system should be boosted in the region to encourage dry season farming as in Northern part."
Korede revealed that no fewer than 300 tonnes of rice were produced yearly by the farmers in the state and sold, adding that some of the farmers operated micro rice mills.
He said, "Efforts are on to raise our production standard; some of our members are engaged in Dangote rice production scheme, we are engaged as out-growers. Dangote supplies inputs and we plant and sell to him.
"We are also part of the Central Bank of Nigeria (CBN) anchor borrower scheme and are expecting delivery of inputs for dry season farming while preparation for the wet season is in earnest.
"We are working earnestly to establish a relationship with research institutes for capacity building as well as to enjoy benefits of research.
"Having discovered that the 28 agrarian local government lands in the state are suitable for rice cultivation, our association is encouraged to further develop and popularise rice production in the state."
Korede added that the association was focused on the establishment of new and upgrading of existing processing units, either small or medium scale.
He, however, identified herdsmen invasion on farms as the major challenge faced by the farmers in the state.
"We also need availability of light mechanical farm implements like power tillers, planters, harvesters, premium quality herbicides, among others.
"If we are efficiently supported, we will surely boost the quality of our production and satisfy the country adequately," he said.