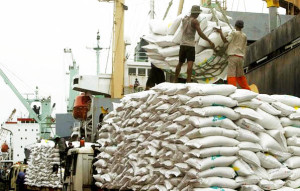 Rice farmers have urged state governments to follow the footstep of Ebonyi and ban the sale of foreign rice as a means of boosting local production.
The National President, Rice Farmers Association of Nigeria (RIFAN) Aminu Goronyo, made the call on Monday in Abuja.
Goronyo was reacting to the current ban by the Ebonyi State Government on the sale of foreign rice in the state.
He said the ban would encourage local production of rice and impact positively on the economy of the country.
"We are going to Ebonyi State to pay a solidarity visit to the governor for that kind of effort that he made. It is a commendable effort and we urge all the state governors in this country to follow suit.
"I think, it is part of efforts to make Nigerians to eat Nigeria's homegrown rice. We have available rice that we produce locally,'' the national president said.