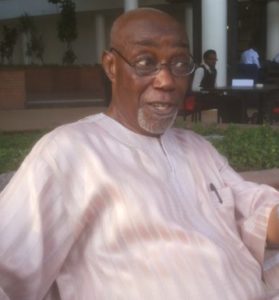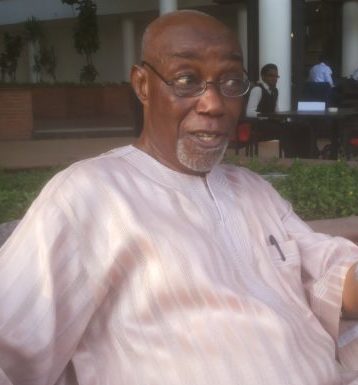 The former Managing Director of Nigerian Shippers' Council (NSC), Dr. Kingsley Usoh has accused Nigerian freight forwarders of incompetence and lack of professionalism in the discharge of their duties.
Speaking exclusively to SHIPS & PORTS DAILY last week, Usoh said, "Anybody who lost his job or retired ends up being a freight forwarder. Most of them don't know their right from left. They only know how to bribe Customs."
Usoh advocated the setting up of a school dedicated to training freight forwarders to induce professionalism in the system.
Read the full interview below:
You left Nigerian Shippers Council 20 years ago, how have you managed life after retirement?
I have not retired. I am still working, studying, reading and researching. I just launched a new book including others that I have written so it is difficult to say I have retired. Business is business whether it is owned by government or private. The only difference is that while in public sector, it is what the man at the top wants done that you must do but when in the private sector, you can do it in your own way.
Now that you are no longer in the public sector, how would you compare activities at the port then and now?
The world is changing so definitely things are changing in the port because if they don't follow the changes, they will be redundant and the economy will more or less collapse because more than 80 percent of all that comes into a country comes by sea. So trade means everything and if the port is efficient or there is nothing coming into the port, you call it recession that we are seeing now. The people there are doing their best but they can do better. It all depends on the instruments you have given them to use and the directives given to them. They are obedient servants as far as I am concern. Those who are in the private sector will try to make sure that the people in the boardroom are happy with the type of profit they are making. So the difference is that you have a mixture of activities. Some are activities from the government and the government is there to make sure that the populace is well looked after. The private sector is there to maximize their profit so you must have a way of making sure that the mixture is acceptable by all.
Some government policies have been blamed for low level of activities at the port. Do you share the same thought?
Level of activities at the lowest ebb is because of the state of the economy, not due to government policies. Government policies are not part of the thing that makes us not to sell oil and when we sell oil we get foreign exchange. Remember that Nigeria as a country consumes, we don't manufacture. So because we are a consumer nation, more than 70 percent of what we need come from abroad. All the foreign exchange we get from oil, we use it to pay our bills outside. Former President Olusegun Obasanjo regime tried to salvage us some years ago because we owed a lot of money as a result of what we have consumed. Any country that consumes and not produces what they will export to other countries except primary products should look again at itself and find out how to get things done in a proper way. Until we start to produce and have a balanced trade of those coming in and those going out, we will continue to have this problem. Banning a product to me doesn't mean anything. For example, some years back in France, some people brought cheap computers from Taiwan to French port. Because of the policy of the European Union, France would not say we ban but instead they pushed the computers to a special port were they held onto them. They didn't want it in their markets because their industry will die so they left it in the port until the computers expired and nobody told those Taiwanese not to bring cheap computers into France anymore. So it is either we use another measure apart from banning but if French government had come out to say I have banned, it means they are contravening the laws of the EU. But because of that measure, nobody brought cheap computers into France till today. So it all depends on the problem our government has because it is the only system that can say I am talking for everybody. I believe government knows what it is doing at any given time. The only thing we are saying is that government should at every time bring people who are knowledgeable to advise them on any measure they want to take so that they can come out with what will benefit you and me.
Nigeria is desirous of being called a maritime hub. What do you think can be done to attain that status?
We should purge ourselves. Even those who call themselves ship owners – because I did a lot of research into that and find out that some of them don't even have ships – but they claim they have ships. I did a research compared with data from NIMASA with the data coming from UNCTAD and you will see a difference between the tonnage we say we own and the tonnage the world say we own just because some people are trying to find a way to register as Nigerian ship owners and get the advantage because of the Cabotage law. So why should we be doing these to ourselves? We need to purge ourselves and be honest in what we do in our businesses.
How realistic do you think it is for Nigeria to own a national fleet?
I came into shipping in Nigeria when I came back from Britain. I was brought back by an insurance organisation to come and work in the industry to help cut down on the losses they were having in the industry, specifically on marine loss prevention. So I was doing marine intelligence for all the losses they were having at the port before I ended up in Nigerian Shippers Council. It was the Minister then who said we need you in the shipping area not insurance. That was how I crossed to the shipping sector. When NIMASA was to be established, the aim then was to allow them collect two percent from taxes that the shipper, which is the owner of the cargo, will pay the ship owner and that will be used to acquire vessels. Then there is another one percent for the agency to look after itself but unfortunately, when the bill came up and the National Maritime Authority was established as it was then called, the politicians changed the goal post. Instead of using the money collected to recalling our vessels, they used the money for other things. Till today, the purpose of establishing NIMASA (Nigerian Maritime Administration and Safety Agency) has not been accomplished because the politicians changed the goal post. However if government has decided that we should own vessels again, definitely they should look at the reasons why the Nigeria National Shipping line (NNSL) died and what can we do to make sure that if we get a new one, it won't die like the first one died. It should not be that because we have the money we should then throw it in because everybody is acquiring vessels. The government must ensure it has done all the necessary homework to make sure that what happened in the past does not happen again. We must look at why we failed. It could be human factor or because of the type of vessels we ordered. That there is money in shipping business doesn't mean we would succeed if we acquire a national fleet. If it is my money I will not go in until I am sure that the returns will be ok. So can't we translate this into government? Or does it mean government belongs to nobody?
How would you assess freight forwarding operation in Nigeria?
I am a Fellow of Institute of Freight Forwarders in Britain. I went to school and did it. Anybody who lost his job or retired ends up being a freight forwarder (in Nigeria). Most of them don't know their right from left. They only know how to bribe Customs. If we have so many people interested in being freight forwarders, we should set up a school in any of the polytechnics and start training them to understand what it is all about. They have to go to school and study more because it is a profession. Some Customs officers own some freight forwarding companies and this is not supposed to be so. In Britain for example, I did clearing job. But you don't see the Customs man and he doesn't see you. You just press the bell and they open their window and you put your entry in. You have your own pigeonhole; they will treat the entry and put it in your pigeonhole. The officer does not know you and you don't know him so you cannot cheat the system. If there is a query, you will go and find your Customs book to find out what the query is all about and correct it. But if the query persists and it happens two times, you will pay a penalty for the job because you have made somebody spend extra time doing it. So I think government should come out with such policy. Customs does not have to know my face or me knowing their face before I can clear my goods. This is where the problem is. People should learn what to do and find out why they are doing what they are doing. Neither Customs nor agents should point accusing finger because they are doing things that cannot be done in any other country.
Copyright Ships & Ports Ltd. Permission to use quotations from this article is granted subject to appropriate credit given to www.shipsandports.com.ng as the source.