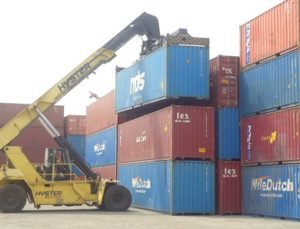 Notwithstanding the change in its name Lilypond Customs Command to Tin Can Island Command 2, the fortunes of the off dock terminal has continued to nosedive, reports Shulammite 'Foyeku. 
The re-designation of Lilypond command as Tin Can Island Port 2 by the Comptroller General of Customs, Hameed Ali on July 1, 2016 was greeted with a blaze of optimism by clearing agents, freight forwarders and even serving officers at the command who hoped that operations at the moribund terminal which has suffered from inactivity will be revived.
Area Controller of the command, Comptroller Abdukadir Dalhatu had stated that the re-christening of the command as Tin Can Island 2 was a strategy to attract stemming of vessels and patronage to it.
It was in line with this development that the controller initiated and organised refresher courses on ICT and general Customs procedure for officers of the command to further enhance their capacity in preparation for the 'high volume' of containers that was expected to result from the name change.
However, six months after it was renamed, the struggling facility remains as desolate as ever.
SHIPS & PORTS DAILY correspondent who visited the terminal observed that it was still suffering from low cargo volume as containers are not stemmed to the command except for the few ones the command said it received from the free trade zones attached to it.
It was discovered that most of the offices at the command have been abandoned as some of the officers have 'redeployed themselves' to 'juicy' commands with considerably high level of activities leaving the command with only 139 workforce as against the over 200 it had about two years ago.
Those who could not help but stay have become redundant as they were seen idling away while some were busy chatting on their mobile phones.
An officer who spoke to SHIPS & PORTS DAILY on condition of anonymity, as he was not authorised to speak said, "The change of name has not changed anything as you can see. Latest by 12noon and 1pm most of the officers you are seeing now would have gone and they only come to work two or three days in a week.
"We are still here because we have not been opportune to leave like some of our colleagues who left with some controllers when they were redeployed to other commands."
The officer also took a swipe at the Customs management for not effecting the change of name on the internal memos received by the command. He said most of the internal memos sent to the command from the Customs headquarters do not reflect the new name but still bears the former name.
Many stakeholders had expected that six months after, the change of name would have resuscitated activities at the command which they say is still a shadow of its old self in terms of volume of activities.
An executive member of the Association of Licensed Customs Agents (ANLCA) Lawrence Uba confirmed that the change of name has not made any positive impact to the level of activities at the command as the main Tin Can Island port command has not allocated "any container to Tin can 2" as expected.
According to him, the only skeletal job going on at the facility is through individual effort of agents which they get through Apapa port and which in many cases have been routed from country of origin.
"We have not seen any change at Lilypond. The change of name has not made any difference at the command because the main Tin Can command has not made any allocation to us since then. If you have any consignment coming to Tin can Port 2 now, if the ship berths at Tin Can Port, they will not be able to transfer it to Tin can Port 2.
"This is the problem we are facing now. I think it is a management problem. On our own we have tried to find out why nothing is happening at Tin Can 2 command because we believe with the change of name and status, level of activities will increase.
"When we were under Apapa and we have any container, once the ship berths at Apapa, they will bring it down to Lilypond but if you have a consignment that you have consigned to Lilypond and the ship instead of berthing at Apapa happens to berth at Tin Can, you will not be able to get that consignment at Lilypond. That has been a riddle we have not been able to solve and they have not given us solution to it.
"People that have tried to make sure they get their container back to lilypond at all cost were made to pay double. They pay terminal charge at Tin Can and you will still pay at Ijora almost the same thing you pay at Tin can.
"So it is frustrating and increasing the cost of clearing and nobody will want to go and start paying those additional charges but if it is Apapa, it is seamless," he said.
Tin Can 2 Chapter Chairman of the Association of Nigerian Licensed Customs Agents (ANLCA), Emmanuel Agubanze confirmed there has not been any improvement in cargo throughput at the command except for those he said were transferred through bill of lading opened by individual agents.
He said there is need for each of the party concerned including shipping companies, customs and the operators of the terminal to strategise and agree on how containers will be transferred to the facility.
"Shipping companies are the ones that carry cargo so they also need to inform their customers that there is every likelihood that their cargo will be going to Tin Can 2 but in the absence of any agreement between the parties there is no way cargo will come to the command," he said.
Efforts to get the Customs Public Relations Officer of Tin Can Island Port Command, Uche Ejesieme, whose command is expected to feed the struggling Tin Can 2 Command with containers, proved abortive, as calls to his mobile phones were not answered.
Copyright Ships & Ports Ltd. Permission to use quotations from this article is granted subject to appropriate credit given to www.shipsandports.com.ng as the source.