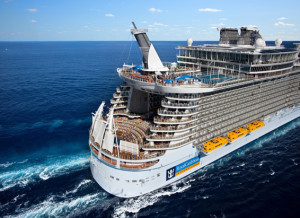 Miami-based cruise line operator Royal Caribbean Cruises witnessed a 60 percent surge in its quarterly net income, which stood at USD 369.5 million in the second quarter, up from USD 229.9 million in the corresponding quarter of 2016.
The company's operating income also surged by 48 percent in the quarter, reaching USD 419.6 million compared to USD 282.2 million reported in the same three-month period in 2016.
Gross yields were up 10.2% on a constant-currency basis. Net yields on a constant-currency basis increased 11.5%, exceeding prior guidance due to strong close-in demand driving higher pricing and occupancy.
The cruise company's net income for the first six months of 2017 reached USD 584.2 million, up from USD 329 million reported in the same period a year earlier. The operating income for the period stood at USD 699.2 million, up from USD 445.4 million seen in the first half of 2016.
"Our brands are executing beautifully, keeping the business in an exceptionally strong position," Richard D. Fain, chairman and CEO, said.
"Strong close-in demand for cruise bolstered the quarter, and we see further uplift for the balance of the year, positioning us well for the Double-Double and beyond," Fain added.
Additionally, the company updated its full year adjusted EPS guidance to a range of USD 7.35 to USD 7.45, a USD 0.30 increase at the midpoint versus previous guidance.
Royal Caribbean Cruises said that its booked position for the remainder of 2017 continues to set new records. Looking further ahead, the company's booked position for the next twelve months is also strong, up on both rate and volume, versus the same time last year.
Net yields for the year on a constant-currency basis are expected to increase 5.5% to 6%, up relative to prior guidance due to the better results in the second quarter as well as stronger trends for the balance of the year.
"Demand has remained strong, and we have captured the related revenue opportunity," Jason T. Liberty, executive vice president and CFO, said.
"These demand trends and continued cost discipline have resulted in the highest second quarter earnings in company history and have put us in position for another record year and achieving our Double-Double targets," Liberty added.  
Copyright Ships & Ports Ltd. Permission to use quotations from this article is granted subject to appropriate credit given to www.shipsandports.com.ng as the source.